For those of you who don't read the Toronto papers, let me tell you a little bit about transit problems in Toronto. The Toronto Transit Commission (TTC) is in financial difficulty. Various sources claim that the province has greatly increased demands on the TTC (e.g. transportation for all forms of handicapped citizens) while at the same time keeping funding fixed or at a lower level. As a result, there is a $28 million shortfall in the TTC's 1992 budget.
To quickly try to save some money, the commissioners decided to immediately close all trolley coach lines in Toronto. If this was not a political move, it certainly became a very visible one as environmentalists and traction fans lined up to save the trolley coaches. On one side, the financial issue was clouded by the fact that many of the trolley coaches were being leased from Edmonton. Edmonton Transit has refused to cancel the lease. As a result, the savings realized will be somewhat less.
On the other side of the issue is that most of the trolley coaches are getting old and tired. Rumour had it that even the Edmonton coaches, which are relatively younger (built in 1982), were often out of service. Overhead is another costly expense and near the end, many lines did not have weekend trolley bus service so that line crews did not have to be kept on standby.
All of this was not so important to Michael and me as we decided to indulge our nostalgia and join traction fans from Toronto, Montreal, Dayton, Chicago, and Milwaukee for a six hour tour on Saturday, January 18.
First we had to get to Toronto. On the Friday evening, I tried to take VIA 1 but it had been sold out a week in advance. At the station, the lineup for Toronto was huge. It turned out that air service to Toronto was seriously disrupted. To try to help the situation, VIA 'stole' a coach and crew from the 17:10 Montreal train (Train 36) and put it onto the 17:00 train for Toronto ( Train 45). All of this activity made the departure 30 minutes late.
The rest of the trip to Toronto was first rate. First the drink cart; then a cold supper of ham and cheese on a croissant, crackers and cheese, fruit and cookies. Later on there were more drinks. The fast track allowed some recovery and we were into Toronto Union only 20 minutes late.
Saturday morning found 80 traction fans, ranging in age from 14 through to senior citizens. One gentleman interviewed by Radio Canada had taken the overnight Voyageur bus in order to be there.
Speaking of Radio Canada, I should mention that the Sunset Tour had much media interest. CTV was there. The Globe and Mail sent a reporter and CITY-TV (a Toronto speciality station) sent a cameraman who took pictures and interviews for almost the entire trip.
For the tour, two trolley coaches had been provided. Coach number 1 was Flyer 9323. My reference sheet does not show a 93xx, only 9200-9251 - so I'll incur the wrath of Toronto fans by guessing that it was part of the Flyer rebuild done between January 1971 and August 1972. Length is 41 feet 3 inches. Width 8 feet 6 inches. It seats 40. It has a "Jerk Rate" of six miles per hour per second - a quite reasonable measure of acceleration.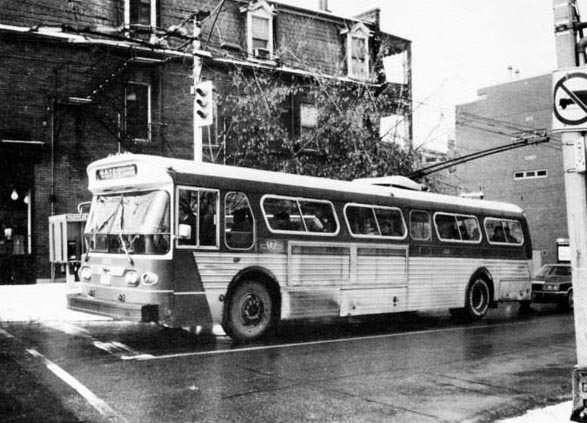 Toronto Transit Commission Flyer Electric 9323 on January 18, 1992. Photo by Michael Iveson.
Coach number 2 was one of the leased Edmonton coaches -Brown-Boveri 9197 (Edmonton Transit 197). The Edmonton coaches are GM "New Look" bodies equipped with Brown-Boveri propulsion equipment. Length and width are the same as the Flyer but they Beat 42 in a slightly different arrangement.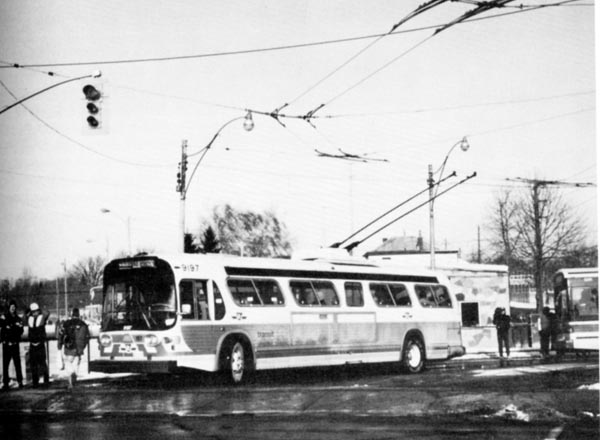 Edmonton Transit Brown Boveri/GM electric 197, renumbered 9197, is one of 40 leased to the TTC. It poses for the camera on January 18, 1992.
Photo by Michael Iveson.

The coaches left Lansdowne Garage on time and visited the following loope - Earlscourt, Royce, Runnymede, Oakwood, Bicknell, Eglinton West Subway Station, Beresford, Bedford, Edward Street, Jarvis & Queen's Quay, Yorkville, Shaw and Queen, Keele Subway Station, and Avon before returning to Unsdowne.
The tour was great fun because of the photo stops and the interesting company which included the TTC chairman. But all too soon the tour was over.
Michael and I returned to Union Station via an unusual route - Bloor Subway from Lansdowne to Spadina; Spadina 77 but from Spadina station to Harbourfront; and the new Hirbourfront LRT, which uses remanufactured PCCs, from Spadina to Union Station.
VIA kept us all waiting (including the large contingent of VIA 1 passengers) for 30 minutes past scheduled loading time. Uter we found out that the consist had been lengthened in order for the new (January 19) service out of Ottawa to have a train. (See consists). Further time was lost near Oshawa where a signal was frozen. Arrival in Ottawa in spite of all this, was only 20 minutes late.
One final note. VIA 1 passengers have access to a CANTEL cellular phone. I tried to use it to call my wife and tell her we were going to be late, but it kept flashing "NO ACCESS" at me. I later put in a call to CANTEL for an explanation, but none has been forthcoming. Perhaps, it's because I work for the competition!
I count myself fortunate to have been able to enjoy this Sunset tour. It was sad but fun. Technology changes unfortunately. I think environmentalists will encourage new non-diesel buses. Toronto hopes to try "Natural Gas" on the Bay route which passes through the financial canyons; however, my dream ifl that someday an improved electrical technology will return to speed passengers through the city streets.
Consist of VIA 46 - Saturday, January 18: F40PH-2 6412, Club 3459 (deadhead), Coach 3362 (Ottawa/Kingston non-smoking), Coach 3334 (smoking), Coach 3322 (deadhead for Sunday's 09:40 train to Toronto), Coach 3312 (deadhead), Coach 3317 (deadhead), Club 3454 (VIA 1 in service), and F40PH-2 6420.
Bytown Railway Society, Branchline, March 1992, page 16.