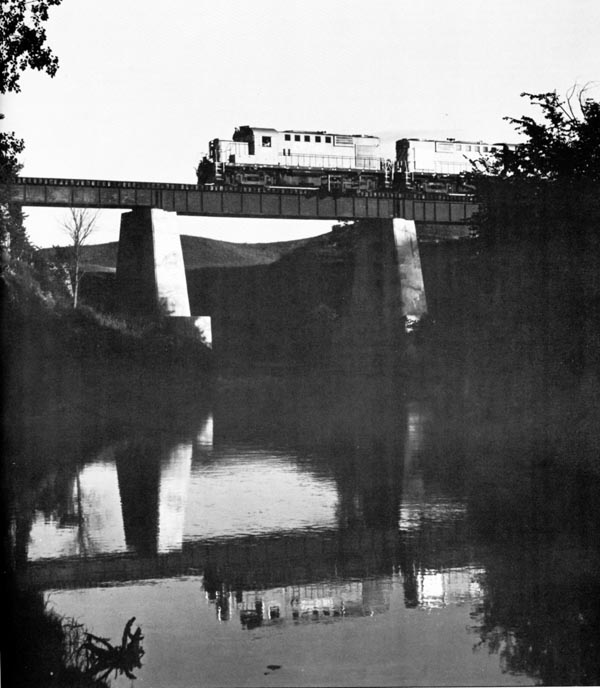 ON THE COVER - "Waterside Locations" category winner, and Grand Prize Winner in the 1991 Black and White Photo Contest. Ross Harrison captured CP Rail RS-18u 1867 and two sisters crossing the Quyon River at Pontiac, Quebec, with a ballast train on July 6, 1990. Alas, this scene cannot be repeated - the Waltham Subdivision was dismantled during 1991
.
Mike Lacelle from Telesat Canada's Drafting Department, and an accomplished photographer, was called upon to make the choices as to the winners. Ottawa readers who were at the June 1991 slide contest may remember Mike. He is still telling stories about his experience there!
Mike found that the task was not that easy. Few of the 30 pictures could be faulted for any sort of technical problems. The few that he set aside were because they were too ordinary. One quite clever picture was dismissed because the railway person pictured giving a highball "was not dressed in proper railway gear". I didn't have the heart to tell him that it was very much a real picture and a real railroad person. Outsiders are still conditioned by the scenes in movies where the highball is given by a uniformed conductor. Another picture with a "John Coleman" moon [John Coleman is an accomplished Ottawa photographer who is adept at super-imposing various images onto a single photo ... Ed.] became a runner-up because of a strange ring around the moon. Here Mike said, "Too bad we didn't have the kibbitzing like at the slide night to really know what the photographer was trying to say."
The grand prize goes to the winner of the "Waterside Locations" category (see cover). On July 6, 1990, Ross Harrison caught CP RS-18u 1867 and two sisters crossing the Quyon River at Pontiac, Quebec, with a ballast train. The judge was impressed with the quality of the printing, especially the excellent use of contrast. I was impressed with the reflection. From an historic perspective, it is important to remember that the recent dismantling of this pike means that this scene will no longer be repeated.
In the "High Summer Heat" category, Robert E. Wanner from Denver, Pennsylvania, was the winner. Mike commented that the shirtless servicing person really told of the heat. He remembered with humour how, at the slide contest, the temperature of the picture was accented by the comments of the photographer. Here there was only the image to go by. I was concerned about the "clutter" of all the Heat pictures (which I hope will get published as they all have stories to tell.) In all the other B&W winners, the subject stands out from its background. I feel that Northern 6259 merges with the boxcars behind, but then the more I look, the more I see that the servicing crew does stand out. Not only that, there is that extra dimension from the old-timer who is obviously enjoying his "sidewalk superintendent" status. Mike has chosen a good winner.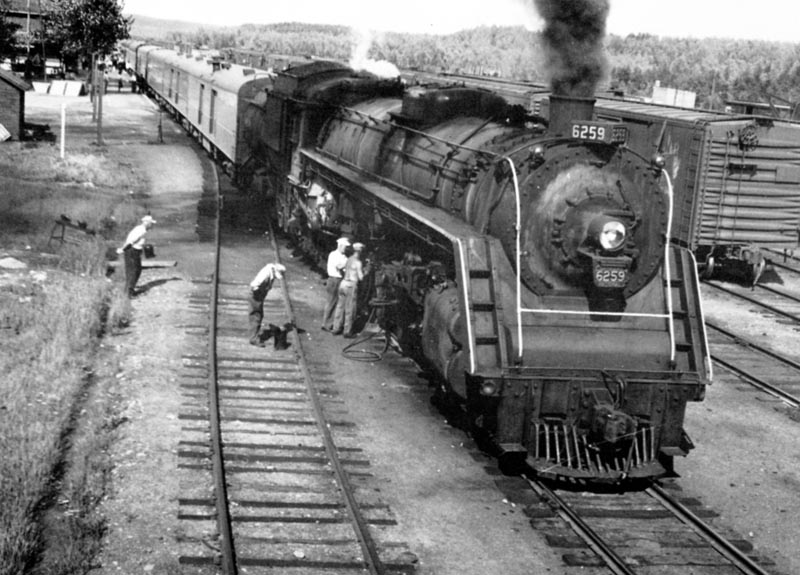 'Steam on the Super!' This day, a hot July 13, 1955, Train No. 1 - the 'Super ContinentaP arrived at Armstrong, Ontario, over two hours late, behind steam no less. Northern 6259 was substituted out of Capreol for the regular assigned and ailing A & B diesel combination. The local hostlers, and quickly mustered servicing crew, swarmed over the locomotive during the half hour station stop to ready the engine for the hop west to Sioux Lookout Photo by Robert E. Wanner.
James A. Brown, last year's grand prize winner, won the "Stations and People" category with his shot taken March 24, 1964, of the orders being hooped up to a CN freight led by a Bessemer & Lake Erie F7A. I'm glad that I did not have to choose the winner as I would have been guilty of a conflict-of-interest. James Brown has been my hero ever since he took pictures at the Canadian National steam shops in Stratford, Ontario, in the early sixties AND made sure that the employees whom he met (including my Dad) got copies. Furthermore, after the shops closed, my Dad worked at Mimico as a labourer on diesels. Twice when I visited him, I can remember the B&LE locomotives. My Dad's Stratford pride bothered him, I remember, because "CN" chose not to care for these visitors as well as their own locomotives. Thanks Mike for choosing what is truly a very personal picture for me.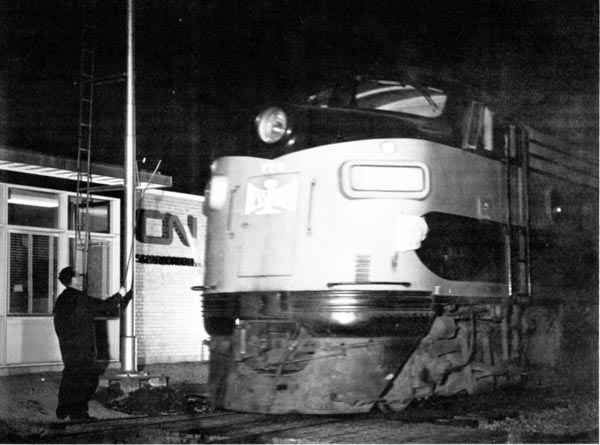 Visitor. To the rail enthusiast, the winter of 1963/64 was given added interest by the leasing by both CN and CP of locomotives from various U.S. roads. F7s from the Bessemer & Lake Erie found temporary assignments on both railways. Here B&LE F7A 720 picks up a clearance at Scarborough, Ontario, as it roars past with train 491 on March 24, 1964. The station is comparatively new, replacing the original which had burned several years before. Photo by James A. Brown.
The "Artistic" class was won by Pierre Ozorak. His moody, out-of-focus, vignetted picture of BC Rail (ex-CP) 2860 at Ottawa Station on April 3, 1978, breaks a lot of rules. As a result, it was extraordinary. Mike was wondering, and we have no information to go on, how the picture was processed and printed. Maybe, next time, entrants can be encouraged to give some information about their film processing and printing methods.
May I take this opportunity to remind you to start getting ready for next year's contest. The topics are reprinted below. I would especially encourage some of our more experienced entrants. It appears from this year's entries that there are some super shots hidden away all over the place.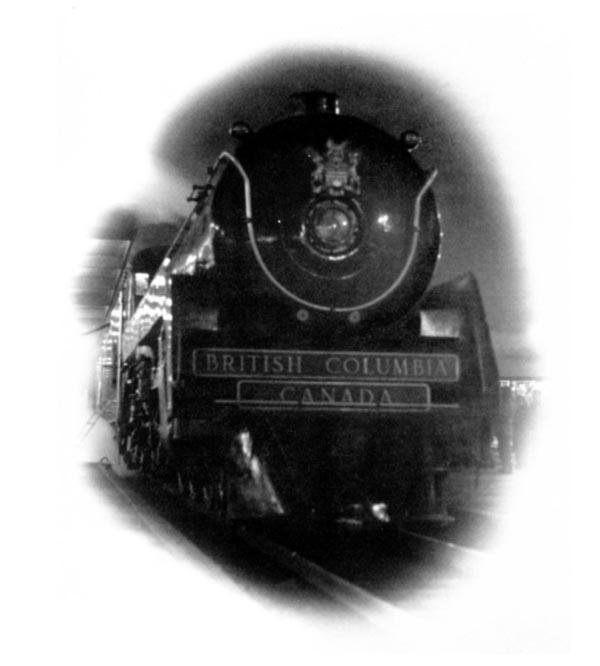 On tour: British Columbia's former CP Royal Hudson 2860 reposes at Ottawa Station on April 3, 1978. Photo by Pierre Ozorak.
CATEGORIES FOR 1992 B&W CONTEST
1) Around Ottawa
2) Desert, tundra, prairies (depicting flatness)
3) Tourist railway operations, including BRS excursions
4) Artistic
Deadline for the contest is November 15, 1992 (don't say we didn't give you fair notice!). The above categories will also apply for our Annual Slide Contest, to be held on June 2, 1992.
Bytown Railway Society, Branchline, January 1992, page 12.