Just before the January 15, 1990 VIA cutbacks, I travelled extensively by train to ride many routes. In some cases, not only would the trains be gone, but the tracks as well.
These trips included:
- an Ottawa-Montreal-Senneterre-Cochrane-Timmins-North Bay-Ottawa loop (service is now cancelled between Cochrane and Timmins, and North Bay to Ottawa, and tracks have been removed into downtown Timmins and between Carleton Place and Ottawa);
- an Ottawa-Montreal-Halifax-Yarmouth-Sydney-Montreal-Ottawa trip (service has been cancelled or minimized on all lines, and tracks are to be pulled up between Kentville and Yarmouth);
- an Ottawa-Montreal-Toronto-Ottawa trip (no longer possible to take a sleeper on this route).
All of these trips were very successful. Good food and good service were common, sometimes even exceptional. For example, on the 'Atlantic' near Saint John, I was served a delirious oatmeal porridge with my breakfast. Who could ask for anything more?
I came back exclaiming about the great experiences. As a result, my wife expressed a desire to participate as well. At Easter, with both of our children away on their own activities, we decided to ride the train to Gaspe before it too succumbed to the Mulroney axe.
When I organized the Maritimes trip in November, I had difficulty with the VIA agents at Ottawa station. Furthermore, with the agency now closed in the evenings, I derided to try the travel agency where I had booked some of my overseas trips.
"OK I'll do it, but I sure hate dealing with VIA," was the comment made by my travel agent. In the hour I spent with him organizing what seemed to me to be a pretty simple trip, I came to recognize what he meant. VIA does not make life easy for travel agents. He later told me that VIA sometimes even rejects the travel-agent's tickets. Oh joy!
My wife and I had to leave work early on the Thursday before Good Friday to catch VIA 34 to Montreal. We wanted to travel on Good Friday, but the train to Gaspe now only leaves Montreal on Thursdays, Saturdays, and Mondays. This was good news, bad news since because we were travelling on a Thursday (even though it was before a holiday) we were entitled to a substantial discount.
The trip on VIA 34 started out badly. We were assigned to car 3402. The train had three LRC coaches. "OK," I thought, "they must be numbered 3402,3403,3404." No, it turned out that most passengers were crowded into 3403. As we boarded, the conductor told us that 3402 and 3403 were together. The last coach was reserved for smokers and the first coach was "for employees", I was told. ("For employees" ???)
Oh well, once underway, the service was good, and we arrived in Montreal on time in spite of the spring-time slow orders. The obligatory "sit in the dark upon arrival" was mercifully short. (After the Thursday evening rush hour, Central Station was blue with smoke and fumes. I see why they must shut down the F40PH-2s as soon as they stop.)
Now came the big question as to whether to eat in Central Station or to wait and dine on the train. Just to be careful, I asked the VIA information officer whether there was food service on the train to Gaspe. He looked at me rather strangely, hesitated, but finally answered in the affirmative. It turned out that the train to Gaspe ('Chaleur') has special microwave food prepared for it. There are even colourful posters on the train and in the stations advertising it. My daughter refers to many microwaveable products as "Nuke and Puke". My lasagna fell into this category. The accompanying cole slaw and fruit salad kept scurvy at bay overnight. The whole package was only $4.95, but railroad dining it was not.
My wife had a submarine sandwich instead of my special 'Chaleur' treat. She was amazed to see it sitting out without refrigeration. She described its vacuum packaging as being labelled "Best Before The Turn Of The Century." The sub's lack of greens did nothing in the line of scurvy prevention.
Boarding VIA 16 (' Chaleur') was not pleasant. Boarding started late and the line-up for sleeping cars (three Chateau-series cars) was long. Children cried and squirmed as they waited. We let the women and children board first and finally approached the desk three minutes before departure time.
"Sorry - but I don't see you on the manifest," announced the VIA attendant, "but don't worry, just get on." We hurried on and entered the drawing room in car 1620 ('Chateau Varennes'). We had asked for a bedroom both ways, but the computer said all nine were full - a false-hood as it turned out. Still it was posh to travel in a drawing room. Both berths get to look out the window - and what a huge window.
Shortly after departure, a second VIA attendant entered our room claiming it was his. He stared at our tickets, and tried to say we belonged in the roomettes assigned to us for the return journey. We refused to budge and by right of possession kept our quarters.
The train was very crowded. Local passengers filled the bar since all coach seats were taken. The trip to Levis passed quickly with only brief stops to let three container trains pass. One had no caboose - my first experience with the new technology.
Sleep in a drawing room is beautiful - maybe because of its centre of the car position. Night passed quickly and I awoke as my wife pushed up the blind to reveal the hills around Matapedia aglow with the rising sun. We marvelled at the scenery all along as the day progressed.
We were rewarded at Chandler with the Abitibi Price locomotive (GE 80 ton No. 05801) which came right down to the passenger station. Other trips to see this far-away industrial switcher had failed to find it.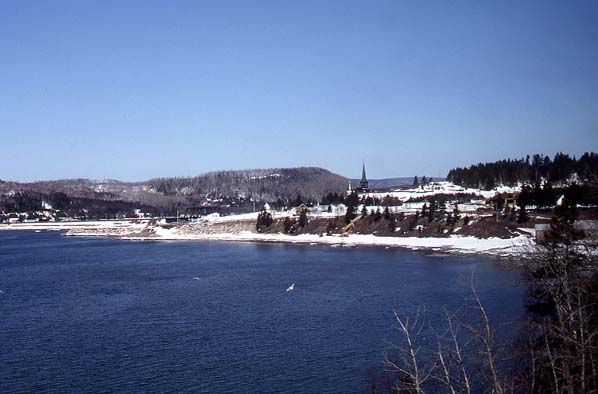 Port Daniel, QC
Special mention must be made of the scenery around Port Daniel where the train drops from a height of several hundred feet down to water level and then climbs back up through a tunnel and along some cliffs. Shortly after Perce station, the train again descends to water level affording the traveller a magnificent view of Perce Rock. While we gazed at the beauty, a snowy owl flew along beside the slow-moving train.
| | |
| --- | --- |
| | |
| Abitbi Price switcher at Chandler | Coast just east of Chandler. |
It was still winter when we arrived at Gaspe. However, we had brought warm clothes and enjoying walking to all edges of the town. We admired the cathedral and Jacques Cartier Museum. We even visited the harbour where a Coast Guard icebreaker was being refuelled for its battle against spring ice. As well, we visited all open restaurants enjoying them all.
| | |
| --- | --- |
| | |
| Douglastown QC | VIA 16 – The Chaleur arrived in Gaspe QC – note the steam heat generator |
To prepare for our return journey, we also stocked up with food (especially fruit and vegetables) before retuming to the desert of the VIA 'Chaleur'.
The trip back was uneventful. Arrival in Montreal was right on time. The half hour connection from VIA 17 to VIA 131 to Ottawa was made most expeditiously. Between Montreal and Ottawa, we were treated royally as we were served coffee and soft drinks and even wished a "Happy Easter" because by now it was Easter Sunday.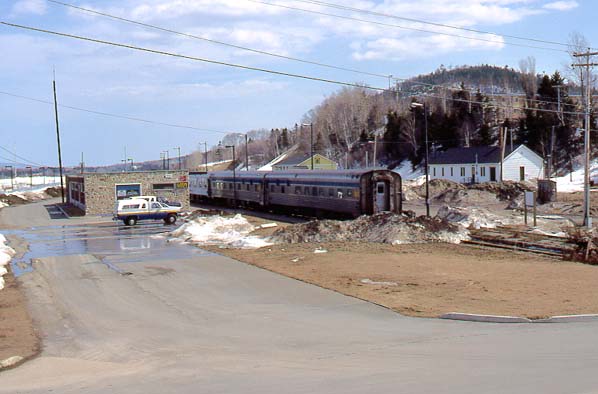 VIA 15 ready to depart with three Chateau cars still with steam heat but in bad shape before they get Head End Electrical equipment
Travel to a place of beautiful scenery can never be made totally unpleasant even though the equipment on the 'Chaleur' was showing its age. Seats were broken in coach 107, as was the beautiful cut glass divider between the smoking and non-smoking area. The sink in one roomette smelled as if something had died in it and one of the bedrooms on our car was out of service because the bed would not come down. The heating was erratic to say the least. Still, it was a super trip.
P.S. The consist of Trains 16/17 included: F40PH-2 I 6432, Steam Generator Car 15458, Baggage 9616, Coaches 5444 and 107, Cafe Lounge 758, and Sleepers 'Chateau Varennes', 'Chateau Lemoyne', and 'Chateau Latour'.
Bytown Railway Society, Branchline, July/August 1990, page 21.