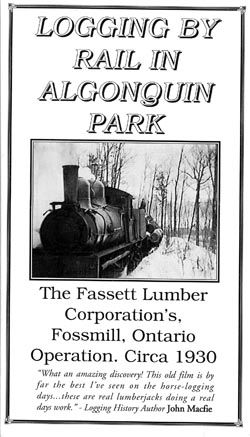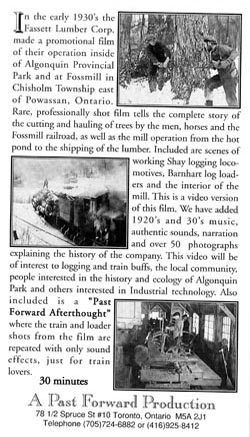 This video is based on rare professionally shot film footage of logging and mill operations southeast of North Bay, Ontario, at the Fassett Lumber Corporation's Fossmill location, circa 1930.
Canada's heritage is a rich collection of vignettes such as the one that unfolds in this totally absorbing 30-minute video. Developed around a promotional film commissioned by the Fassett Lumber Company and tastefully augmented with pictures, realistic sound, informative commentary, and period background music, we are given a unique sample of an aspect of Canadian culture that thrived and eventually disappeared in the lush forests of Algonquin Park. What gives the video genuine historical appeal is the fact that if one searches out the old mill site today, not much will be found other than a meadow-like clearing in the woods, just next to the soon-to-be-dismantled CN Beachburg Subdivision. The former landmark was completely destroyed by fire in 1934, with operations moving to Kiosk a couple of years later.
The video tells the complete story of the harvesting of trees in the northern reaches of Algonquin Park, including their transport to the lumber mill at Fossmill. There is good footage of the tree cutting and dragging operations as well as interesting views of horse-drawn sleigh activities on the south side of tea Lake. After freeze-up, the sleighs were joined together to allow the logs to be towed by both trucks or tractors across the ice to the railhead. Watch, as the logs are skilfully loaded on to waiting railcars by steam-powered Barnhart log loaders and then hauled the next 20 kilometres to the sawmill just outside the park limits. You can't help but be impressed with the fact that the hard-working Shay locomotives had to negotiate tight curves and up to 10 per cent grades as they made their way across the highland terrain. Especially interesting is one segment which features footage shot from the caboose of a moving log train. It's sure to bring a tear to the eye of any B.R.S. member who remembers rides on the Thurso & Nation Valley Railway before its demise 10 years ago.
The video continues with a very informative description of milling operations, including views of the lumber yard that could store upwards of 15 million board feet of wood stacked in piles up to 40 feet above the ground, and concludes with a brief overview of events that lead up to the cessation of large scale logging operations inside the Park.
I can't imagine this video not making a wonderful Christmas present. It is available from the BRS "Sales Desk" for $28.95, plus $3.50 for shipping and handling, plus $2.27 GST (total $34.72). Ontario residents please add $2.32 PST.
P.S. Watch for the soon-to-be-published companion book entitled "The Fossmill Story" - Life in a railway lumbering village on the Edge of Algonquin Park (1924-1947).