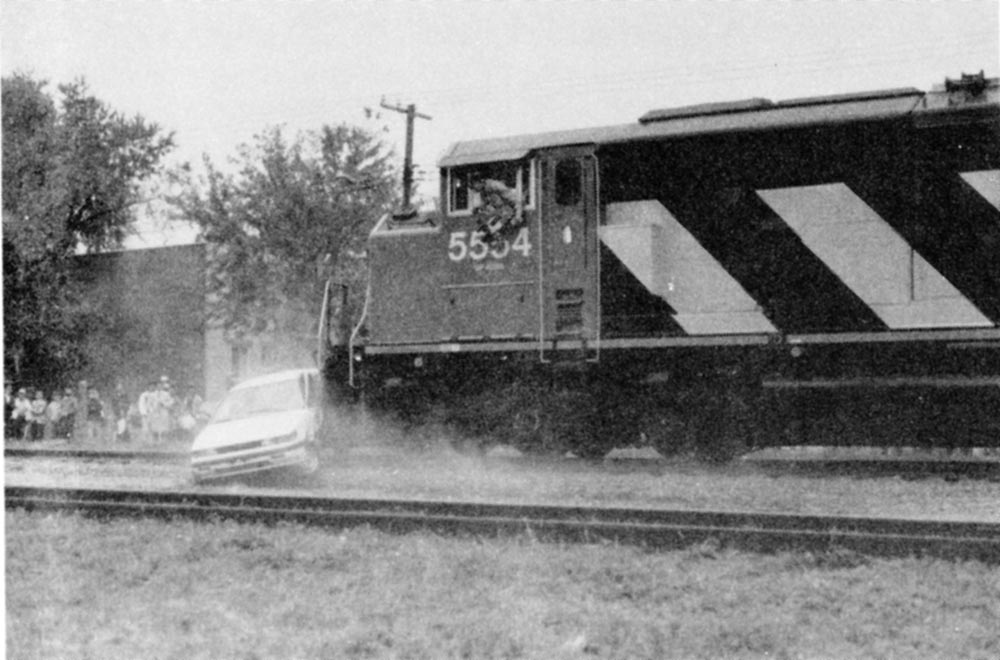 CN SD60F 5554 "argues" with an automobile at Lebrun Street in Montreal on October 17, 1990, in an Operation Lifesaver staged collision. Photo by Ray Farand.

Two years have elapsed since readers of Branchline were introduced to Operation Lifesaver's inauguration of National Awareness Day (see December 1988 issue). On that occasion I had the pleasure of being present at the official ceremony held at Walkley Yard in Ottawa. On hand was an impressive list of guest speakers, including among others Roger Cyr, the National Director of Operation Lifesaver. Befitting such a special occasion was a "special train" assembled jointly by Canadian National, CP Rail, and VIA Rail. The train comprised a locomotive from each company, with an "Official" car from CN and CP (Number 91 and "Wentworth" respectively), and a coach from VIA.

For those of you who take note of such things, this was the first time that a power lashup of this nature had ever been assembled. One could not help but ask if this would ever happen again. The answer finally came two years later, on October 17, 1990, deep within the east-end of the City of Montreal, at mile 5.92 of Canadian National's Longue-Pointe spur. It was here that Operation Lifesaver would celebrate its tenth year of existence by deliberately slamming a locomotive into a car at the Lebrun Street grade crossing. The event was intended to demonstrate to the general public what happens when a train collides with a car.

Upon arriving at the site by chartered bus, having departed from CP Rail's downtown Windsor Station at approximately 10:45, I, along with the Features Editor Dave Stremes, quickly became aware of the presence of not one locomotive, but three full-width cowl carbody units. On the point was CN SD60F 5554, followed by CP SD40-2F 9017, and last but not least VIA F40PH-2 6448. Trailing the impressive consist were three CN 50-foot plug door box cars, presumably along to enhance braking capability. Strategically placed in the middle of the grade crossing ahead of the train was a late model Dodge Colt compact car. A large crowd of curious on-lookers lined either side of the right-of-way along Dubuisson and Souligny streets.

To suggest that this wasn't intended to be a large scale media event would be an understatement. By design, a substantial corp of reporters and video recording technicians were on hand to capture the event. Operation Lifesaver officials are very much aware of the fact that few people in real life ever witness an accident of this nature. Their hope is that once people actually see the results of such a collision through television and film coverage, that the impression will have enough of an imp stay with them and perhaps influence their future actions.

One need only look at the statistics to see that there is still much room for improvement. In 1989 there were a total of 467 grade crossing accidents in Canada, resulting in 283 injuries and 86 fatalities. Projections based on statistics for the first nine months of 1990 suggest that this year there will be 384 accidents, resulting in 183 injuries and 45 fatalities. That will be a total of approximately 851 occurrences in the last two years, if projections hold true to the end of December. National Awareness Day notwithstanding, it is clear that many people are still taking unnecessary chances with trains, and paying dearly for their poor judgement.

The news, however, is not entirely bad. Last year's total of 467 accidents is substantially less that the 826 recorded in 1980, the year before the organization began the task of educating the public on the dangers of level crossings in Canada. This continues a trend that has seen a progressive drop in such occurrences during the last ten years. Without a doubt, public education campaigns are producing positive results.

Following a brief news conference convened by National Director Roger Cyr, with guestspeakers Bob Ballantyne, President of the Railway Association of Canada, and Jean Corbeil, federal Minister of State for Transport, the action heated up and a well organized event turned into a real "bash". With everyone in position, the signal was given and a diesel horn sounded in the distance. Moments later, the behemoths from GMDD in London, Ontario, could be heard throttling up to the permissable impact speed of 15 m.p.h. As the train approached, numerous short staccato blasts of the air horn could be heard sounding out a warning. The impact was inevitable, however, and as the crowd groaned, and shutters clicked, the now shattered car was pushed ahead of the locomotive, kicking up ballast and dust in the process.

It was all over in a matter of moments. Within two hundred feet of the crossing the train came to a stop with the vehicle bent around the locomotive's pilot. Even though the train had been travelling at low speed, damage to the vehicle was extensive, and Operation Lifesaver had undoubtedly made its point once again, that when it concerns grade crossings, "Trains Can't Stop".

Bytown Railway Society, Branchline, December 1990, page 10.