What would you think if your boss approached you on a Friday and asked if you had any plans for the following week? Some people might get a bit concerned and break into a cold sweat, as they considered the possibility of receiving their walking papers. Faced with that very question recently, my curiosity turned to surprise, when informed that I was needed in Vancouver the following Tuesday to meet with one of Transport Canada's Regional Superintendents. By coincidence, TC had an aircraft going to the west coast that very day to check out Instrument Landing Systems at Nanaimo and Pemberton, and I was to accompany the crew to Vancouver, with our return home planned for later that week, on Friday.
To comprehend my surprise you must realise that in approximately seventeen years with Energy Mines and Resources, this was my first offer of travel that I had received, but boy was it a dandy! The thought of visiting "California North" in the middle of February was too tempting to refuse and I quickly accepted. Thus began an adventure that would take me across the country in a De Havilland Turbo Prop Dash 8 aircraft with brief stops at Winnipeg on the way out, and Prince George, Edmonton, Lloydminster and North Bay on our return leg. This wouldn't be the quick flight you might expect in a commercial jetliner. Dash 8s do not fly that fast, with average enroute ground speed in the neighborhood of 225 statute miles an hour, after refueling and headwinds are considered. Ultimately the 5,000 plus miles that I would log during the week would chew up over twenty hours in the air. My friends, that's a long time to be away from terra firma. Fortunately there were plenty of distractions to keep me busy and the time passed too quickly.
My affirmative response to the idea of such long distance travel really had my boss puzzled to the extent that he made comment that the wife and kids must really be getting to me. In actual fact he couldn't have been further from the truth. You see, even as he spoke, visions of BC Rail, the Burlington Northern, the Southern Railway of British Columbia (commonly referred to as the "Hydro railway"), CP Rail's Port Coquitlam and CN's Thornton yards, Roberts Bank and VIA Rail's new Vancouver Maintenance Centre all passed before my eyes. My biggest problem would be time. How could I possibly squeeze all that sightseeing into just two or three nights, taking into account fatigue due to time zone changes, delays getting around town, and finally the need for me to be up early and at the office looking sharp during the day? Well as incredible as it might seem, good planning, a rented car (personally paid for!), and a little luck, I was pretty much able to do all of the above. Well, enough stage setting, let's get on with the trip.
Tuesday, February 14, 1989.
I'll begin my narrative high above Algonquin Park aboard Transport 300 (our radio call identity) at 14,000 feet above sea level (ASL) after a successful departure from Ottawa International Airport at 09:00 Eastern Standard Time (EST). The heavy cloud that had obscured my view of the ground since leaving Ottawa finally began to dissipate. Using one of the many aeronautical charts I had brought along to track our progress across the country it wasn't long before I was able to identify CN's Beachburg Subdivision as it snaked its way along the north shore of the Petawawa River near Lake Traverse. Soon we passed over Brent, the St. Lawrence Region/Great Lakes Region crew change point, and continued west towards North Bay where I saw the first of many trains, the southbound ore train leaving the CN transfer yard at 09:50. Near Sturgeon Falls we met an eastbound CP freight as it approached the Lake Nipissing shore. Our course took us in the vicinity of Capreol, Chapleau, Wawa and then out over open water along the north shore of Lake Superior. By 11:50 we were over land again, crossing CP's Nipigon and CN's Kinghorn Subdivisions at Red Rock, along the edge of a very frozen Nipigon Bay. We had now been in the air just under three hours. With Thunder Bay in the distance to our left, we continued to a point near Dryden and then on towards Minaki where we overtook a CN westbound as it weaved its way around the numerous lakes that frame the Redditt Subdivision. By 12:30 (13:30 EST) we were about fifty miles east of Winnipeg (Manitoba) and starting to descend for a landing to refuel our plane. As we passed north of Ste. Anne I could see a CN grain or potash drag just east of Dufresne on the Sprague Subdivision headed most likely for Thunder Bay.
My visit to Winnipeg was short, just long enough to take on fuel, and by 13:25 (14:25 EST) we were again climbing into a clear and sun-filled prairie sky. As we gained altitude, CP's massive yard operation appeared briefly to my right, but unfortunately the airport is located at the western extent of the plant making a good view virtually impossible. From Winnipeg our course took us within camera range of the cities of Portage La Prairie and Brandon in Manitoba, and Regina, Moose Jaw and Swift Current in Saskatchewan. By the time we passed over Medicine Hat (Alberta) and then Lethbridge around 15:00 (17:00 EST), southern Alberta was hidden by a thick layer of cloud associated with a foothills snowstorm. This prevented me from getting a picture of the famous viaduct on CP's Crowsnest Subdivision. At Coleman the skies cleared and the majestic snow-capped Rockies began to unfold in waves as we crossed each successive mountain range. Between the peaks were valleys thickly carpeted with evergreen forest. Awesome is the only word to describe the winterscape that lay below me. After passing Cranbrook (British Columbia) we flew over CP's Nelson Subdivision at Proctor, mileage 117.8, next to a sparkling blue and unfrozen Kootenay Lake. Shortly after, the Slocan Subdivision came into view as it wound its way up to the lake for which it is named. Lower Arrow Lake came next and at 15:25 (18:25 EST) we passed just south of Penticton at the end of Okanagan Lake, We were now only about half an hour from arrival at Vancouver. Slowly we started to descend from 18,000 feet. With Princeton behind us we took aim at EC's lower mainland and flew towards the Fraser River delta. Soon the mountains gave way to rich fertile farmland and we arrived at Vancouver International Airport at 16:00 (19:00 EST), ten hours after leaving Ottawa.
The first thing on my list was to pick up the car. Everything went smoothly and soon I was on my way downtown to the hotel. With just enough light remaining in the evening sky, I decided to detour over to the CN (VIA) station east of False Creek for pictures of VIA No. 4 - "The Super" - as it prepared to depart for points east with F40PH-2 6410 and F9Bs 6631 and 6603 gracing the headend. A couple of tracks over, VIA No. 3's equipment sat idling with CN SD40 5092 and VIA F9B 6604 resting against the bumper post. After a quick look inside the open door of VIA's new maintenance facility, a modest structure in comparison to the sprawling Montreal complex, I proceeded to check in at my motel.
The hour was getting late by the time I had finished supper, jumped in the car and proceeded over the Lion's Gate Bridge to North Vancouver and the BCR. The temperature hovered near freezing with the dampness making it feel somewhat colder. Thankfully the warm greeting that was extended to me by the personnel in the yard office took the chill out of the air. The necessary formalities were dispensed with quickly, allowing me to spend the next couple of hours taking night shots in the well-lit area around the diesel shop and car department. On hand that night were a pair of RS-18s, each with former RS-3 slugs in tow, an M-420B, four M-630s and three SD40~2s, one of which (No. 743) was set up as a remote control unit. Budd-built passenger equipment was very much in evidence with seven of the company's nine RDCs on hand for overnight servicing. Only RDC-1 BC-22 and RDC-3 BC-31 were missing. In addition to the above, I was able to locate business cars "Northern Summit" and "Caribou", sleeper "McPherson", and a host of BC Government-owned passenger cars. Not bad for one night's work. After expressing my thanks to the staff I returned to my hotel around midnight local time, one very tired but happy easterner.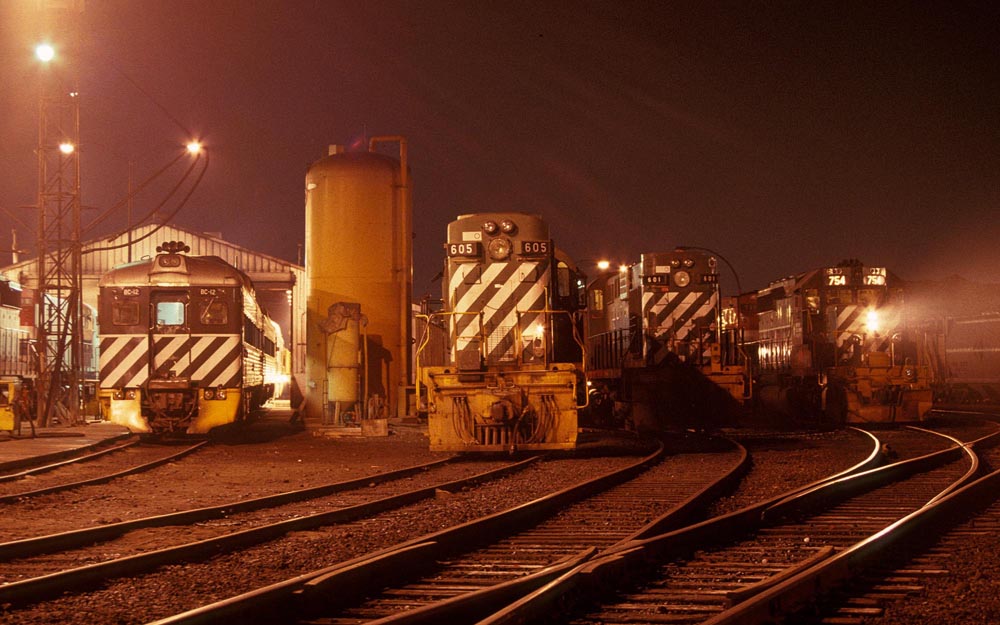 BC Rail's North Vancouver facility held a variety of equipment on February 14, 1989, From left to right are RDC-1 BC-12 and BC-21; RS-18s 605 and 601; SD40-2 754 and M-630(W) 730. Photo by Raymond Farand.
Wednesday, February 15, 1989.
The next morning dawned overcast and cold by Vancouver standards, about -5 C. It wasn't much of a concern though, because I had work to do at TC's downtown office that would keep me occupied until early afternoon when I would get the opportunity to flight check one of our air charts in the Fraser River delta area south of the airport. This would be done in a single engine Beaver aircraft circa 1947, equipped with floats. At 13:30, I rejoined my contact from the regional office, and together we met our veteran pilot of over forty years. The take-off (my first on water) wasn't overly rough, but when we were finally airborne the pilot asked if the choppy conditions had been bothersome? I was tempted to tell him that I had received my pre-flight training riding CP's Waltham Subdivision on the north shore of the Ottawa River, but in the end I simply smiled and complimented him on his airmanship.
Prior to departure, I had indicated that if we could work a flypast of Roberts Bank into the itinerary it would be a real treat. This didn't present a problem and thus became the first item on the agenda. We flew by the giant coal loading facility at approximately 1,000 feet, providing me with an excellent view. Four unit trains were occupying the nearly three mile long causeway that juts out into the Strait of Georgia. One, a CP drag, was unloading at the tandem car dumper located on the exterior loop track. The second, a BN coal train up from Washington state, and likely carrying coal from Wyoming's Powder River Basin, was preparing to unload on the interior loop at the single car dumper. The third and fourth trains, both CP, were waiting on the approach tracks east of the terminal area.
We continued south around Point Roberts and then flew across Boundary Bay to Colebrook, where BN's 9th Subdivision crosses the BCR's Port Subdivision to Roberts Bank. This is Centralized Traffic Control (CTC) territory with signals and switches controlled by the BCR dispatcher in North Vancouver. We proceeded north to a point along the Fraser River just east of CN's Thornton Yard where we made a left turn and followed the river bank to the airport. In the process I managed to get a look at the big CN facility, along with the "Hydro" operation located near the Queensborough Bridge. This was as close as I would get to either location during this whirlwind visit.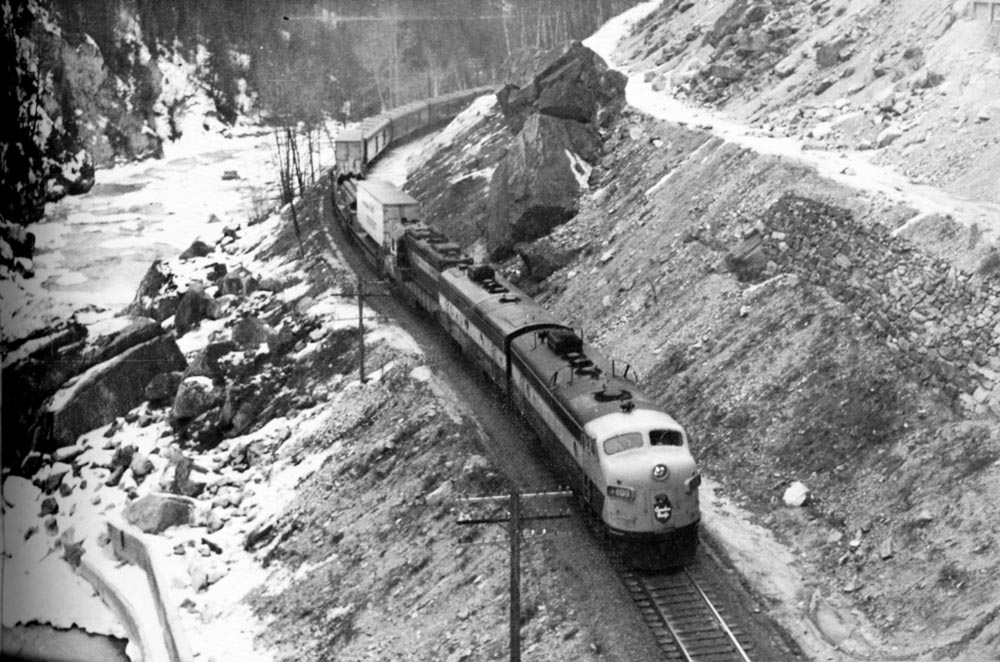 The scenery was equally awesome 25 years ago as Canadian Pacific FP7A 1400, a 1900-series 'B' unit and an 8500-series GP9 power Train No. 8, "Dominion", through the Kicking Horse River gorge on March 27, 1964. Photo by Peter Cox, collection of Bruce Chapman.
By 15:15 I was on the ground again making a dash down East Marine Drive to New Westminster intent on getting pictures of VIA No. 2 - "Canadian" - near Lake City on BN's double track mainline. My efforts were assisted by a CN transfer drag running ahead of the transcontinental as both trains proceeded east out of the downtown area. The freight, a solid block of covered hoppers in potash service was destined for interchange with CP Rail at the Cape Horn Exchange yard located next to the Fraser Mills industrial area, just east of New Westminster. VIA's trains enter the Westminster Subdivision just west of the yard before proceeding over to Port Coquitlam. The continuing delay permitted me to get around No. 2 for a second photo of the train at Mayfair, not far from Coquitlam. It was here that I was given a strange look by a private security guard as he passed in his car and proceeded up a lane off the Lougheed Highway. Moments later, as I finished making some notes and prepared to drive away, I noticed a sign which read "Forensic Psychiatric Institute". Let me tell you I didn't waste any time getting out of there. I drove over to Port Coquitlam and waited for VIA No. 4 near the small passenger shelter that's located at the west end of the bypass track that loops south of CP's sprawling freight terminal. It was almost dark when the eastbound "Super" made its appearance with CN SD40 5092 leading the way.
A short time later, after getting a bite to eat, I arrived at the entrance to Port Coquitlam Yard. I drove up to the yard office and secured permission to take pictures around the main shop. As you would expect, a continuous stream of power was cycling in for servicing between assignments. Most units were SD40-2s (DRF-30s), however, a number of GP9u's (8200s) and a few GP35s were also present. Unique GP30 5001 made an appearance along with 6701, one of only six SW8s remaining on the roster. In all I saw about fifty units during my two hour visit. As I headed for the gate, after expressing my thanks to all concerned, I noticed the auxiliary, 250 ton crane 414651, ex-TH&B No. X-766, barely visible in the shadows. It was a long way from home too.
Returning to New Westminster around 21:00, I pulled up at the Burlington Northern station off Brunette Avenue. To the left of the station sat a pair of SW10s, Nos. 390 and 391. The plan initially was to go in and ask the operator for permission to photograph the power, then proceed over to the "Hydro" to finish the evening at their shop before it closed at 24:00. So much for plans. Two and a half hours later, I was still talking with a very congenial BN dispatcher. The former operator positions had been upgraded at some point prior to my visit, with the Canadian office at New Westminster run as a satellite operation of the main dispatching centre in Seattle.
That portion of the 9th Subdivision between the north switch at Blaine, Washington, and the end of track at Vancouver, is under the jurisdiction of the train dispatcher in New Westminster. This includes Absolute Block Signal (ABS) territory between Blaine, milepost (MP) 119.4, and Brownsville, MP 139.5, except for the trackage at Colebrook; the CTC territory between Brownsville and Willingdon Jet., MP 151.8; ABS territory between Willingdon Jet. and CN Jet., MP 155.3; and the remainder of the subdivision falling within yard limits between CN Jet. and the end of track at MP 156.0 in Vancouver.
Traffic on the BN line was always heavy, especially on the mostly double-tracked portion between CN Jet. which connects to CN's waterfront yard located next to the Centennial Pier on Burrard Inlet, and Fraser River Jet. MP 141.3, where CN's mainline turns east towards Thornton Yard. Included within this area are connections to the BCR at Willingdon Jet., and CP Rail at CP Jet. just east of the station at New Westminster. All of these gateways add up to a considerable number of movements each day. For example, on February 15, the day of my visit, the register indicated that 35 CN freights, 4 BN freights and 4 VIA trains, along with an assortment of switching moves, had operated over BN-controlled trackage on or before 23:00.
Tonnage between Vancouver and Seattle is sufficient enough to require the operation of two daily through freights in each direction, along with a local between Billingham and New Westminster. These trains can be supplemented on occasion, as was the case this day, with coal trains to Roberts Bank. It was most enjoyable to watch BN train 112 northbound from Seattle, and No. Ill, the southbound equivalent, advance across the CTC panel, activating lights and audible tones as they entered each successive control block. By coincidence, the two trains passed within minutes of each other in front of the station. Pairs of SD40~2s, Nos. 8152 and 8146, and Nos. 8144 and 8145, provided the power for the northbound and southbound trains respectively. To top things off, I even had the opportunity of seeing the dispatcher hoop up the paperwork to the crew of the southbound. Now how often do you see a dispatcher doing that particular task?
The hour was late as I said goodbye to my host and pointed the car towards the hotel. The "Hydro" railway would have to wait for another day. On the way back I decided to make one more stop, at the VIA station downtown. The passenger terminal area was totally deserted as I set up my tripod on the platform next to the classic Budd stainless steel cars behind the station. Seeing that there wasn't any motive power around I decided to give the maintenance centre a try and was greeted at the door by a very authoritative security guard. His response was, in so many words, that a request for an unofficial tour of the premises was most inappropriate, and absolutely refused me entry to the building. The fact that it was after 01:00 probably had something to do with his decision. I turned around and headed for the car as my mental stability was being openly questioned behind me. You may be sure I didn't dare tell him that I had been outside the gate of the Psychiatric Institute earlier in the evening.
Thursday, February 16, 1989
I didn't get much sleep the remainder of the night because I had to be up early and at the airport by 07:45. I rejoined the crew and we took off for Prince George to perform another airport landing system inspection. Our departure from Vancouver was made into an overcast sky at 09:30, with a hint of snow visible in the air. It wasn't until we were over Williams Lake that the sky began to clear, allowing me the opportunity to see a number of huge trestles that punctuate the BCR mainlines through the province's interior region. At Quesnel, mileage 384.8, we passed over a northbound freight with four big road units on the headend. I wondered if it was the same power observed leaving North Vancouver some 36 hours earlier? After arriving in a very cold Prince George (almost -45 C with the wind chill), I spent the next hour and a half on the plane as we did circuits around the airport. This gave me the opportunity to see both the BCR and CN yards located nearby in town. On a couple of occasions, as we approached the runway, eastbound CN freights passed directly beneath us hauling mostly forest products destined for eastern markets. By noon we were facing the Rockies and headed for Edmonton. The scenery proved to be every bit as spectacular as that experienced in the lower part of the province. Towering snow-capped peaks glittered in the afternoon sun. Our flight took us directly from Prince George to a point north of Hinton of CN's Edson Subdivision. From then on I was able to keep the mostly double-tracked mainline in view all the way to Edmonton.
The plan called for us to land at Edmonton's Municipal Airport, located north of the downtown core. As we approached the city we circled over the South Saskatchewan River near CP's South Edmonton yard. From there it was a quick descent over the numerous office towers in the business district, with touchdown at 16:35. By the time we made our way to the hotel and had supper, it was dark. Discouraged by the cold, I decided to leave any forays to CN's Calder Yard for another time.
Friday, February 17, 1989


Friday dawned clear and cold. As we arrived at the TC hangar around 08:00, an ice fog was beginning to accumulate over the city. Departure was an hour later (11:00 EST), and as we climbed away from the airport I was treated to a spectacular view of the downtown skyscrapers piercing through a shimmering haae. It was a short hop over to Lloydminster for more work and by noon (14:00 EST) we were on our way home. Our eastward course took us near Saskatoon and later over the southern tip of Lake Manitoba to a point just north of Winnipeg. From there, we basically retraced the route taken earlier in the week. The remainder of the trip was largely uneventful from a railfan perspective, except for a period of time when we passed over CP's Ignace Subdivision between Minnitaki, mileage 75.3, and Ignace. The parade began with VIA No. 1 westbound near Minnitaki (about an hour off the advertised), followed by a westbound freight passing through Dryden, then an eastbound at Dyment, mileage 34, and finally two freights, one in each direction, moving in the yard at Ignace. All five trains were observed in the space of twenty minutes.
Darkness began the settle in as we flew over Sudbury and started to make a slow descent into North Bay for fuel. Time wasn't wasted and by 19:20 we were on our way with only forty minutes separating us from Ottawa. For the final leg of the trip I was given the opportunity of sitting up on the flight deck, to appreciate the view from the headend. As we levelled off at 13,000 feet I was treated to one of the prettiest sights I've ever had the experience of witnessing. Under a full moon, in a cloudless night sky, a snow covered Ottawa Valley began to unfold below me. In the calm night air the communities of Petawawa, Pembroke, Eganville, Renfrew and Arnprior slipped by our wing tips, glowing from the reflection of urban lights on the surrounding white landscape. Between the pockets of brightness could be seen strings of vehicle headlights as they traced their way along local highways. In the plane before me was an ink-black instrumentation panel filled with buttons and gauges, all illuminated by soft white and green indirect lighting. The entire display came alive, as soft red LEDs associated with the instrument navigation equipment flickered relentlessly in recognition of our everchanging location. On my headset could be heard the continuous chatter of air traffic controllers working out of the Ottawa Terminal Control Centre.
As we flew down the Ottawa River over Lake Deschene, the glowing lights of the city (first visible when we were over Algonquin Park) began to silently wrap around us. We were cleared to 5,000 feet and told to contact the Ottawa control tower for further instructions. Descending to 3,000 feet we passed over the centre of the city and proceeded to make a sweeping circle to the southeast over Carlsbad Springs and Leitrim. Shortly thereafter we were cleared to land. Transport 300 was home with touchdown a little after 20:00, right on VIA No. 2's time. WOW! now that's a cab ride.
Branchline, May 1989, page 7.