Changing a Train Order Light
I started as an operator on January 1, 1 965, and worked the CP Ottawa Terminals during that winter while attending university. Come the late spring, I got a call to work a swing operator's job, Saturday days at Almonte, Ontario, (mp 23 on the Chalk River Subdivision north of Smiths Falls), then 12-8 Sunday and Monday at Carleton Place, (mp 1 7 on th same line), then 4-12 Tuesday and Wednesday same place, days off Thursday and Friday. (A few operator's jobs had split days off like Monday and Thursday, so this was a real treat having days off consecutively a week!!)
I no sooner got into the station at Almonte than I got a call that the train order signal light was out...as reported by a train after the night operator left ... his hours were 11 pm-7 am, on to cover "The Dominion", westbound due there about 0001, eastbound about 0530. As soon as 'The Dominion' came off in January 1966, these night operator jobs were history.
Anyway, I walk out onto the platform, and look up, and up, and up. The train order signal and its lightbox are perched on top of the bay window with a small ladder up to it, but to get to the roof of this bay window, you needed a ladder.....from the baggage room. And it was one heavy ladder. I was no muscle-bound brat in those days...the guys at Ottawa West roundhouse used to say that if I drank a glass of tomato juice, I'd look like a thermometer. Anyway, I struggle and get this ladder perched onto the bay window roof, and climb up it, but as soon as I looked down, forget it.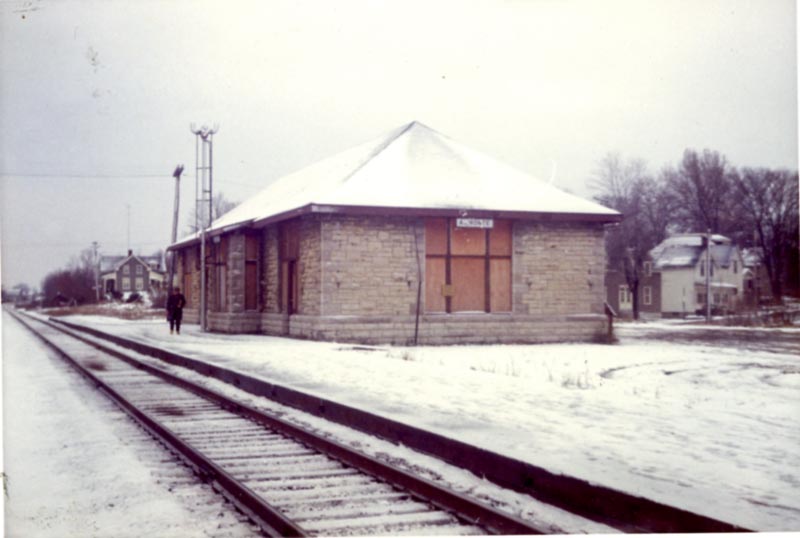 Almonte station 11 January 1971 showing the climb up to the signal lamp.
I called Don Hummell, the day man agent-operator on his days off, and he comes down...to hold the ladder...whoop-de-doo. I guess I'm lucky that he didn't put in an overtime ticket. Then I say to Don: "If this is a train order signal, why isn't the signal maintainer here to change the bulb?" That just got a snort out of him!!
Up the ladder again, onto the roof, and a horn ... here comes No. 951 with an Alco A-B set ... thankfully, no orders, and he highballed through, shaking the old stone station's roof at a great rate. Finally I get up the little ladder, and try to move the little latched steel door upwards to reach in to get the burnt-out bulb out, and it is jammed shut, actually rusted. Loverly....so I had to stand up there a good 20 feet in the air pounding upwards on this little lip to try to get it open ... as I'm still here to natter about it, it finally opened. And I had the replacement bulb in my pocket...they called it a cheap 'utility' bulb - CP must have got them at a discount store ... I doubt if they put out 40 watts. Anyway, I managed to get back down without breaking my neck.
Canadian Pacific leased three PNC GP9 units back in 1972, and they were not equipped with "Canadian" pilots....the appurtenance between the rails that is at a 45 degree angle from the rail upwards to deflect something between the rails from derailing the unit (and the train). They did have a straight pilot at a 90 degree angle. They were old Southern Pacific units in an attractive yellow and green scheme.
On February 18, 1972, No. 930, the 3rd piggyback train that CP ran from Toronto to Montreal overnight (they being 926, 928 and 930), had had an engine failure somewhere on the Belleville Sub, and newly leased PNC 3419 had been taken off a westbound to rescue 930. When 930 got to St. Luc shop in Montreal, it was noticed that it only had a US pilot, not acceptable to Canadian authorities, so we got a note that afternoon in all the dispatching offices in Canada that PNC 3419 3634, and the 3rd one which I can't recall right now, were not to be used leading in Canada due to the pilot problem.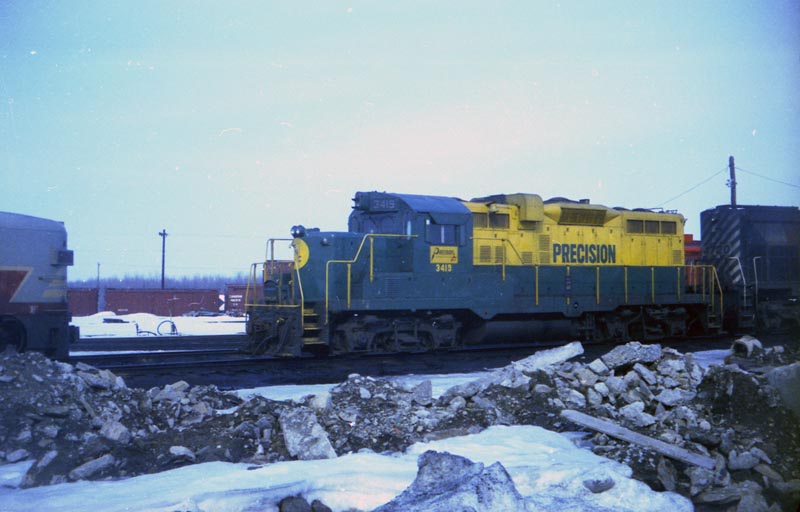 PNC 3419 at Smiths Falls 4 March 1972
I'm dispatching at Smiths Falls, Ontario, 4-12 on February 20, 1972. No. 911 has a FA-1, a FB-1 and PNC 3419 going by my window. No. 2 ("The Canadian") has a run late of 5 hours; his power has two RS-10s (8475 and another clunker that came over on Noah's Ark). I notice that PNC 3419 is backwards (facing east). We also have a note that the turntable at Chalk River is unusable due to being full of snow. No. 911 is approaching Pembroke, 20 miles from Chalk River, and he needs another 20 minutes on a wait order to get to Chalk River for No. 2. I ask the operator at Chalk River how No. 2 is doing, and can I put a stiff "wait" order out to get 911 in, which he checks with the Sudbury dispatcher. He comes back several seconds later, and says that I can have 30 minutes, as the lead unit on No. 2 is on idle, only being kept on line for steam (it is about -20F/-30C). We are still in Imperial/Fahrenheit at this juncture.
So I have the operator at Pembroke copy the order, No. 911 gets into Chalk River ahead of No. 2, and No. 2 will be the last train that I have to worry about that night on the Chalk River pike...it is approaching 2200.
The shop guy at Chalk River (an extremely endangered species by this late date) comes on the dispatcher's phone rather agitated, and tells me that in addition to 8475 being on idle, the 2nd unit has motors cut out from ground relays and is running at half power, and if he hits any snowbanks between Chalk River and Montreal, we'll soon have a frozen-up stalled train on our hands full (??) of passengers.
I ask him if he has any power at the shop (a stupid question, as I knew he had none), and he told me that 911 's power was still on the train. He had no turntable, so the only unit that I could put on No. 2 was the Picnic 3419. Neither the FA-1 or FB-1 had steam lines, so they were useless. So time to take the bull by the horns, and make my big decision for the night; No. 2 will have the PNC 3419 leading from Chalk River to Montreal.
No. 911 stumbled across the North Bay Sub. with two more relics from the steam era fumbling along with his train. I think that he reduced some cars at Chalk River so that he didn't end up frozen in some god-forsaken village out there too.
There were no orders out for No. 2 at this time, but he was getting so late, and I had No. 949 due out of Smiths Falls at 0100, so I had to give No. 949 a wait order on No.2. So this order 19Y745 February 20th, 1972 to No.2 at Pembroke has "No.2 eng PNC 3419 wait at Haleys until 2250, Renfrew 2301, etc., etc.,".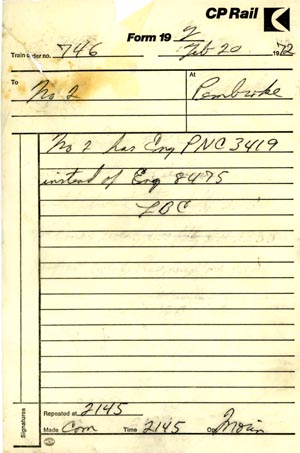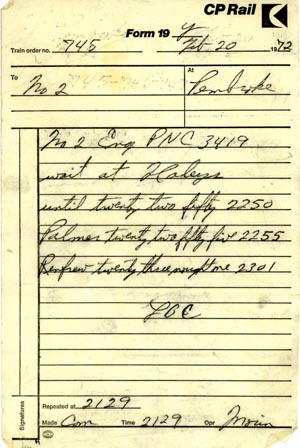 I was done at 2359, so I drove home to Ottawa, but as I was leaving the dispatching office at midnight, the operator at Renfrew came on the phone saying that the steam generator on 8475 had quit and was about to freeze up. So I called the locomotive foreman at Walkley Yard in Ottawa to come and meet the train at the passenger station. When the shop foreman arrived at 0130, as did No. 2, I was back in Ottawa, and went over to see this conglomeration; there was the foreman trying to thaw out 8475's steam generator with fusees. He told me later that he was successful.
I checked the pilot on the 3419, and didn't see too much of a buildup of ice or snow, and asked the train crew how they liked it, and they said that anything was better than bouncing along on old long-nosed RS-10 with the fumes in the cab. No. 2 made it to Montreal, and that afternoon, as I was dispatching in Smiths Falls, No. 911 rolled by my window with an FA-1, FB-1 and PNC 3419 still facing eastwards.....what goes around, comes around.....?