Thanks for the photo of CP 4036 on Page 24 of the July-August Branchline. I remember that locomotive quite well. (I checked the train registers in my collection to make sure that I got my facts straight!!)
I started as a CP train order operator on January 1, 1965. At the time, I was going to Carleton University in a Commerce course, but going nowhere fast. If I got a call to work an extra shift as an operator, I took it. The telephone rang at 7 a.m. on Friday, February 5, 1965, on a call to duty at Ottawa West on the day shift, 8 a.m. to 4 p.m. I decided that my studies were going to take a 3-day weekend!!
The previous day, #8 - The Dominion', had passed through Ottawa West with a western-line FP7, 4036, followed by two F7Bs, 1909 and 1918. I didn't see it as I was at Carleton and the train went through at 1145 a.m., 4 hours late.
Later that night, our through freight to Smiths Falls, #83, left Ottawa West with RS-18s 8760 and 8798. He returned to Ottawa West from Smiths Falls with FP7 4036, RS-18s 8760 and 8798, and RS-23 8028...the two extra units being sent to Ottawa West due to a shortage of power here. Those two extra units apparently came off train #949 at Smiths Falls.
CP 4036 was sent as a light engine to Ottawa Union via Hurdman. leaving at 08:48 for the morning pool train #261 to Brockviile. I don't see any other steam-generator-equipped units at Ottawa West in the register book, so perhaps the chief train dispatcher at Smiths Falls had to scan his incoming trains to get a unit with a steam generator to Ottawa West in a hurry. Train #261 was normally an RDC or two, however, that day a conventional train was substituted.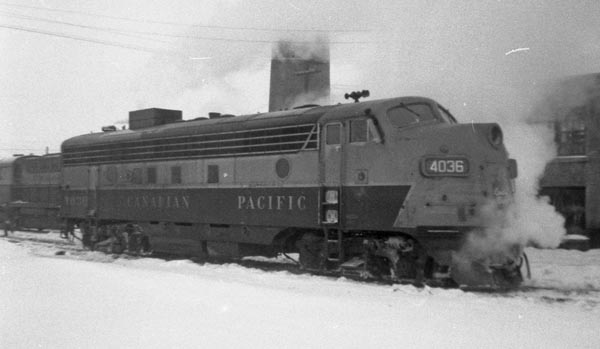 CP 4036 at Ottawa West shop track before leaving for Ottawa Union to pull #261 to Brockville on 5 February 1965
The engineer was Bill Cherry. In came #261 to Ottawa West station with this highly-unusual 4036 at 09:54 with three cars, and I was dutifully standing on the platform with the hoop for the engine crew...the power usually stopped just west of Bayview Road so the passengers didn't have to walk far from the station door to entrain. Bill took his orders from the hoop, and threw it back at me, but with too much gusto, and it landed on the roof of 4036. I gave the conductor, Eddy McMullin, his orders, he gave me the staff, and then we all looked at this hoop on the roof of 4036. At that time, none of us saw any way to get on the roof, so away #261 went ... to this day, I often wonder where the hoop flew off of the unit...hopefully not into somebody's windshield waiting at a crossing for the train to pass.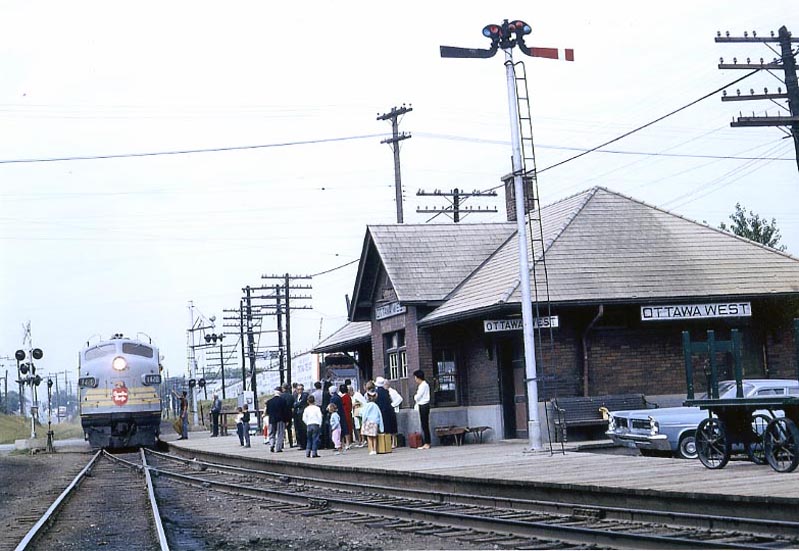 Bruce Chapman hooping up orders to 1420 on 31 July 1965. This day the hoop didn't finish up on top of the engine. Photo by Bill Linley.
Train #262 returned that evening (my writing is in the register book right until midnight on that day, as I recall the afternoon operator booked sick at the last moment, and there was nobody to take over for me, so I got an overtime shift out of it too!) The 4036 returned light to Ottawa West shop at 1 9:09 from old Ottawa Union, and went out that night on #82, the overnight freight back to Smiths Falls via Bedell along with RS-23 8028 and RS-10s 8589. In looking at the register, that 8028 was used on the Prescott Wayfreight, #94 on Friday, and returned with quite a train, 2 loads and 34 empties, 11 94 tons. Another odd unit in Ottawa West that day was Lake Superior and Ishpeming RSD-12 1804 on through-freight #76 that ran from Ottawa West to St. Luc via the M&O Subdivision.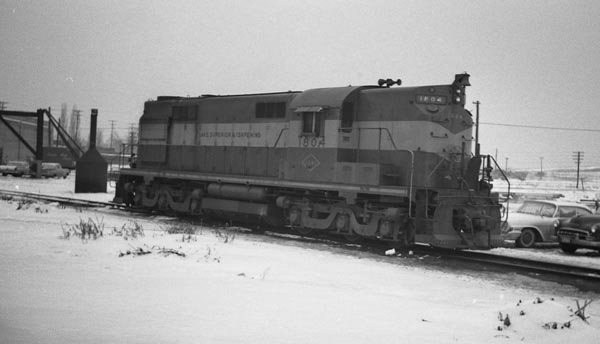 Lake Superior and Ishpeming 1804 at Ottawa West on 5 January 1966
In checking the register book for Saturday, it was expected the 8589 would return from Smiths Falls on #90, with 4036-8028 remaining at Smiths Falls, but no, 8028 came in solo, with 13 loads, 7 empties, 1117 tons. My teeny-bopper years!!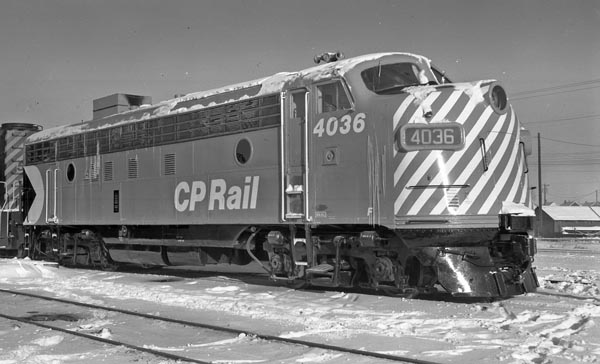 4036 at Calgary, Alyth on 26 December 1971.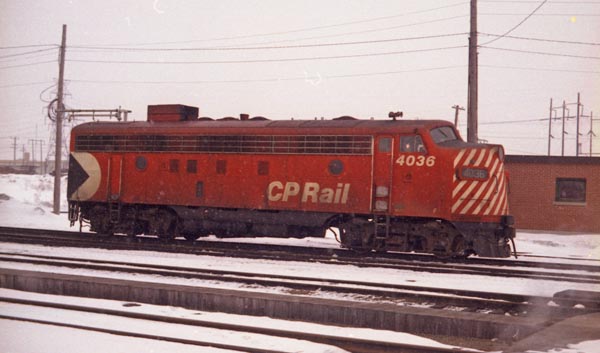 4036 at Ottawa, Walkley on 20 February 1973.