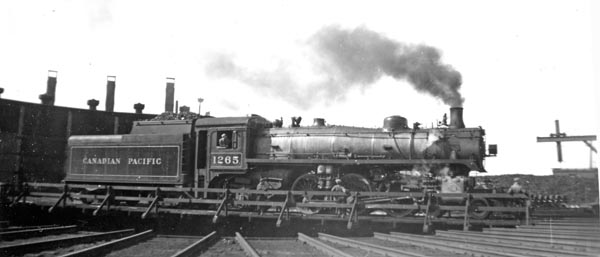 1265 on the turntable at Ottawa West in 1950. Photo by Addie Schwalm.
Thanks very much for sharing that shot of CP 1265 at Ottawa West in 1951 [in the September 2006 Branchline.] It and 1227 made Ottawa West their home pretty well from when they were built almost until the end. In fact, 1227 was supposedly earmarked for the National Museum of Science and Technology along with 1201, but they had to cut back, and 1201 got the nod. 1227's last run out of Ottawa was on train No. 89, our overnight freight train to Smiths Falls....he was ordered for 0200 on January 4th, 1960, and had for power 1227-8765 [RS-18] -8469 [RS-10], but the two diesel units were idling to bring train No. 90 back from Smiths Falls the next morning; Frank Dixon was the engineer.....he had been the fireman on #550 at Almonte on 12-27-42 on engine 2518 that got rear-ended by 2802 [4-6-4] on the troop train.
I have the dispatch books from Ottawa West shop starting on April 18th, 1958, and the earliest one has 1265 leaving on page 7, and that was it; I never saw it again. It was on our early evening freight to Smiths Falls, No. 83, power 8466-8464 [RS-10] with engineer J. B. Murphy, and 1265 was engineered by C. W. Gillespie, who just passed away in Smiths Falls last year. His nickname was COLD WATER. The story was that he was an environmentalist, and why have 250 Ibs. of steam on an engine when 125 would get you over the road. This last run out of Ottawa West was on April 21st, 1958. I don't know where 1265 ended up after it left Ottawa.
I remember two stories about 1265. One evening in the summer of 1957, No. 83 was ready to leave Ottawa West with the 1265. The train was normally built in the 'River' yard at Ottawa West, this yard was the bigger yard, and right beside the Ottawa River. For some reason this evening, No. 83 was built in the 'little' yard, whose tail end tracks ended at Broad Street. The 'River1 yard had several curves in it, almost up to Ottawa West station, whereas the little yard had one curve as it passed that yard office, quite a piece east of Ottawa West station, then it was straight on to the Carleton Place Subdivision, so No. 83 could get a good run at the hill leaving Ottawa West up to Parkdale Avenue. The track leading into this 'little' yard was known as the West Main Line, as it used to be the old main line leading from Broad Street (former CPR passenger terminus) to the Carleton Place Subdivision. The 1265 went by Ottawa West station at a good clip, and a yard clerk there. Bill Popowicky, who was at the station to check the cars on No. 83, said to me: "You'll never see that again. No. 83 leaving from the west main line at such a speed!". I was only 11 at the time, and of course never had my camera. It was about 8:30 pm, and the sun was still up, so it was late May, June, or early July.
The other story....I attended Elmdale Public School. But we had no woodworking classrooms and so we had to walk to Hilson Avenue Public School, about 8 blocks west. I never did well with my hands for woodwork or metalwork. How I passed, I'll never know. Whatever I touched, I broke, and still do to this day!! My teacher in Grade 6 woodwork was a Mr. David Strong. This was 1956-1957, so I was 10 or 11 years old and making a nuisance of myself at Ottawa West yard. This Mr. Strong comes up to me one day and says: "I saw you hanging around Ottawa West last weekend.....do you know people there?" So I told him that I did, and what would he like? He said he'd like to see the roundhouse....so after school, I met him at the station, and we walked over to the locomotive foreman's office. Art Mayhew was the 4-12 foreman, and I introduced them, and then I asked if Art was moving any engines around that Mr. Strong could get a ride on. He told me that 1265 was going out that evening and that it had to get some coal. The engine was on the outbound track, and he had to take it out to the Prescott Subdivision switch, and back it onto the inbound track. Mr. Strong got his first (so he told me) ride on a steam engine.
Mr. Strong was moved to Devonshire Public School the next year, which is 2 blocks from Ottawa West, and from there he got well acquainted with the day Locomotive Foreman providing him with the chance to take lots of photos. I've never seen Dave's photo collection; he lives on a farm in Glen Tay, outside of Perth, but he's often invited me up. He became the president of the Smiths Falls Railway museum, and is still very active. I still have my report card from Grade 6, and took it to our OVAR [Ottawa Valley Associated Railroaders] meeting in June, and we all had a good laugh...I said that I still couldn't hammer a nail in straight, but he passed me anyway.....probably for the railfan end of things!!
Bytown Railway Society, Branchline, October 2006, page 23.