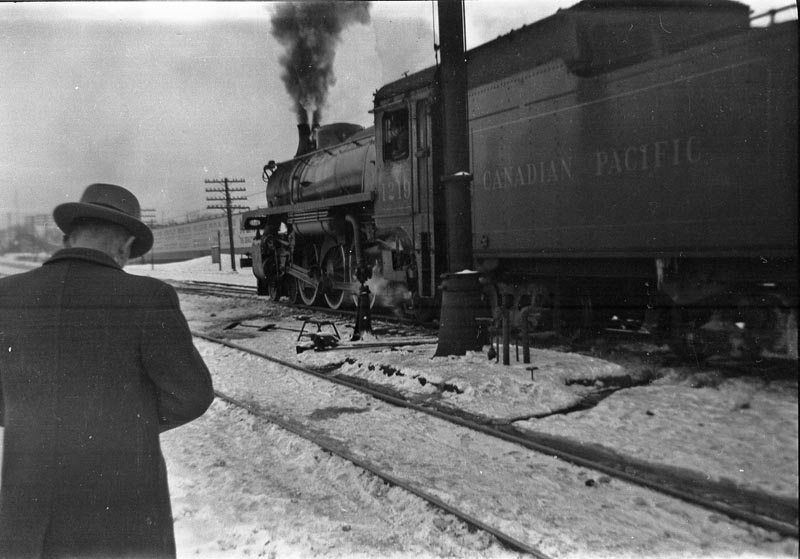 CP 4-6-2 1219 departs Ottawa West with Train 559 to Brockville on Christmas Day 1955. Dad got into the photo at the left. No. 1219 was scrapped in February 1960 at the tender age of 14 years, 4 months.
My parents gave me my first camera on Christmas Day, Sunday, December 25, 1955. After the usual family pictures, my father took me down to Ottawa West where I took my first railway shot, namely of CP light Pacific 1219 powering Train 559, the afternoon pool train from Ottawa to Brockville, with connections on the CNR to Toronto.
[This is the same engine that Duncan du Fresne wrote about in the November 2002 Branchline about the 1219 doubleheading with a dead "FP" unit on Train #8 - "The Dominion" at 92 mph. And at a retirement party in Smiths Falls in May 1998, Bill Hawkins reminisced about the day when he was hostling the1219 and put her through the roundhouse wall at Ottawa West.]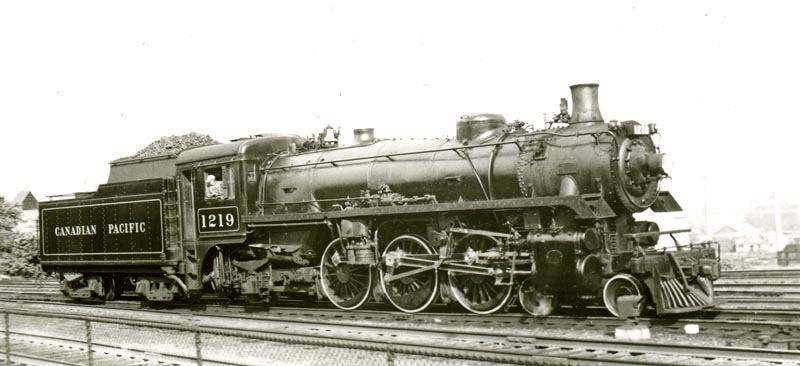 1219 at Montreal West in July 1953.
Train 559 became Train 263 in 1957. For three months, from October 31, 1965 to January 23, 1966, Train 263 became Train 261. Train 261 became CN Train 45 when CP exited the pool train service - CN GMD1 1911 and five cars made the first run on January 24, 1966.
Today #45 belongs to VIA Rail, and it runs about three hours earlier than in the 'good old days'. Prompted by Don McQueen's story about his 50th anniversary shot in the December 2003 Branchline, on Sunday, December 25, 2005, I photographed Train 45 at Fallowfield Station in the western outskirts of Ottawa, just like my first railway photo at Ottawa West which was in the western outskirts of Ottawa 50 years before.
Train 559 first ran via Carleton Place when the pool agreement started on April 2, 1933. Under Canadian National, #45 was called the 'Exec', and VIA continued the name when they took over in 1978. It was called the 'Rapido' from November 15, 1981 to April 23, 1983, then back to the 'Exec' until May 1, 1988, then the 'Rideau' until May 5, 1991, then the "Lakeshore' until April 26, 1992, back to the 'Rideau' on November 1, 1993 until a time in the 1990s when VIA dropped the names from many trains.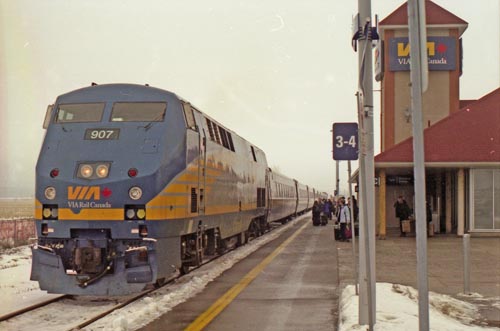 VIA P42DC 907 stops with 10-car Train 45 at the relatively new Fallowfield Station in west end Ottawa on Christmas Day 2005. Bringing up the rear is F40PH-2 6405.