The writer is a retired dentist in London, Ontario, born in 1930, but the first 20 years of his life were spent in Chapleau, Ontario. He started in the CPR locomotive shops there working menial jobs, and later becoming fireman and engineer/engineman. His father and many relatives worked for the CPR up there. There are good pictures of him and his father when they worked together on runs.
The book contains a few errors: calling locomotives 2514 and 3436 D10s; he said that he fired Royal Hudson 2860 one time through Chapleau, but it was an oil-burner, and only worked in B.C.
He recollected that his first trip was on December 25, 1947 firing locomotive 5454, which he said was built in the 1920s, but in reality it was built in August 1944, just three years before his first trip. His next trip was on 5401, and it was built in November 1928.
Train crews especially might like to read how things were on the Schreiber Division during the depression, war, and into dieselization. The atrocious conditions at the away-from-home terminals/bunkhouses/work trains were disgusting. The depression did not end in northern Ontario until Canada declared war on Germany in 1939; then the long lines of stored locomotives stored outside since 1929 were moved indoors, cleaned up, and put into service to serve the war years.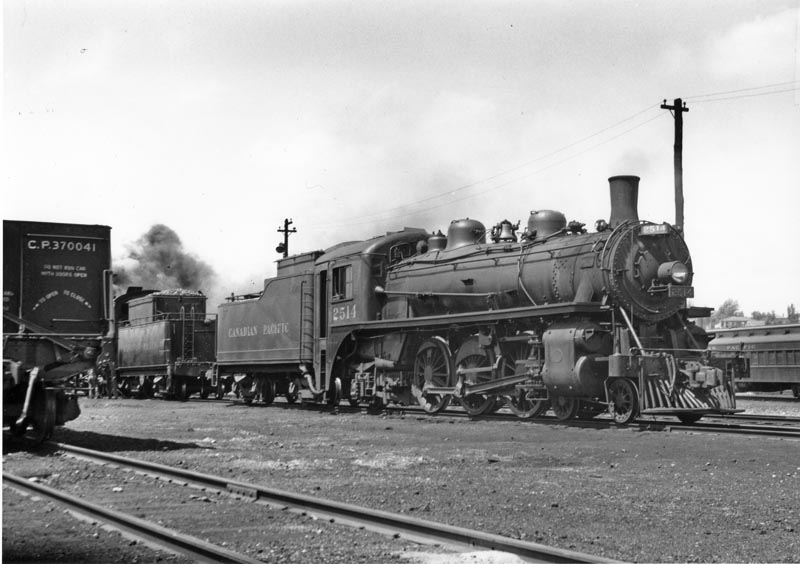 2514 derailed at Cartier, May 1953.
Dr. Pellow describes mishaps he was in; derailing 2514 on the shop track at Cartier (we had the engine in Ottawa in the 1950s, and was involved in a tug-of-war between the CPR and a Hull courtroom, as documented by Duncan du Fresne in Branchline last year. Another time, he was engineering on 2nd #7 riding yellow blocks ... he pulled into White River with long-nose RS-10 8478 or 8476 (he gets the numbers mixed up), the fireman not paying attention, and almost hitting 1/7 as he could not see around the nose of the unit on the left-hand curve in front of the station - he only got stopped because he could see the sleeping car porter on the platform. He stopped ten feet from the 'Park' car. There are several other hair-raising stories.
However, there are lots of stories of wine, woman, song, bad language, and coming of age that might not appeal to everyone. He includes several copies of demerit letters that he received, old passes, and the ending of his father's life in hospital; very touching stories.
This book costs $50.00 postpaid, from the author at 232 Wharncliffe Road North, Penthouse Suite, London, Ontario, N6H 2B1.
I hope that you might enjoy it as much as I did.
Bytown Railway Society, Branchline, April 2006, page 17.