I began dispatching for Canadian Pacific in Smiths Falls, Ontario, 45 miles south-west of Ottawa, in January 1969. The dispatcher's telephones in those days were not the best. With one bolt of lighting from a thunderstorm, the telephones would often go dead, or were so noisy that you couldn't hear anything. Also, when I first started hanging around the CPR when I was less than 10 years old, Smiths Falls had three desks; the M&O (Montreal and Ottawa) desk, the Winchester desk on the double track from Montreal to Smiths Falls, and the Chalk River desk, from Smiths falls to Chalk River, and a whole bunch of branches out of Ottawa. By the time I got dispatching, the M&O desk had gone to Montreal, and on the weekends, the two remaining desks were combined.
In the summer if 1969, I was working 4-12 pm on the Winchester desk, with Monday and Tuesday off. On Saturday and Sunday, I was all alone. It was a hot July day, in the 90 degree Fahrenheit range, and they were calling for late evening thunderstorms. I was busy with my regular duties. At about 430 pm, the operator at Chalk River, the farthest end of my territory, comes on to OS a train, and give me a lineup from my western counterpart in Sudbury of the next planned trains coming to me. I casually ask this new voice..."Do you know the morse?" He replies "Yep".
All the trains were into Chalk River except #1 - "The Canadian", the last passenger train on this pike. It was due there at 715 pm. The next train going to him was #949, a transcontinental freight train which would not be there until 700 the next morning. So the Chalk was quiet this evening.
The operator at Pembroke, 20 miles east of Chalk River, reported #1 out at 645 pm, on time. The 'phone was starting to crackle, and Pembroke said that there was a big storm moving across the Ottawa River towards him, and to expect a big blow in his burg soon.
About 7pm, a big roar came onto the 'phone .... I asked Pembroke to cut the 'phone east or west to see where the racket was, and it was west of him. So I had him cut the 'phone west.
About 730pm, I started calling RV RV RV/Q on our wire 1W (West) - RV being Chalk River's call letters, Q being mine. No response. About 830pm, same thing. By 930 pm, I had to start getting some train delay messages ready, called RV again, no answer. At this time, CP and Bell Telephone were very active against each other's interests, and it had to be a real emergency before we used the Bell Long Distance services on the CPR. Anyway, I finally called Chalk River, and he answered on the first ring.
Me: "Do you not hear me calling you on the wire?"
RV: "I don't know the wire!"
ME: "Well, I asked you at 430 if you knew the morse!"
RV" Oh, I thought you wanted to know if I knew Jack Morse, the west-end conductor!"
Anyway, this guy's name was Warren Mitchell. He had just transferred off the Schreiber Division where they had removed the morse wire a short time before, and it was not a requirement for them to know the wire. Warren became my boss when we moved to Toronto from Montreal in February 1 995, where he was a Chief Train Dispatcher, and I was a Locomotive Manager for the St. Lawrence and Hudson Railway, a CP spinoff, and he retired a year before I did. He now lives in Mattawa, 90 miles west of Chalk River, and on our occasional chats, the conversation always starts with "OS Chalk River."
In the Operations Centre in Windsor Station in Montreal, seven days a week at 0500, the mechanical guys had to make a list of every bad order unit on the system. Of course, our mechanical guys did everything they could to get units in service for 0500!
A bunch of new carmen had been hired off the street, and the car department was training guys at the car department at St. Luc on how to lift units with an auxiliary. An old retired RS-10, 8481, on the scrapline at the shop, was moved over to the car department beside the road, and flopped onto its side. I took a picture of it, and took it into the office. Ken Mosher sent a copy upstairs to Tom Marks with the note: "Don't worry, Tom. It'll be ok at 5 am". I think that I laughed until I cried.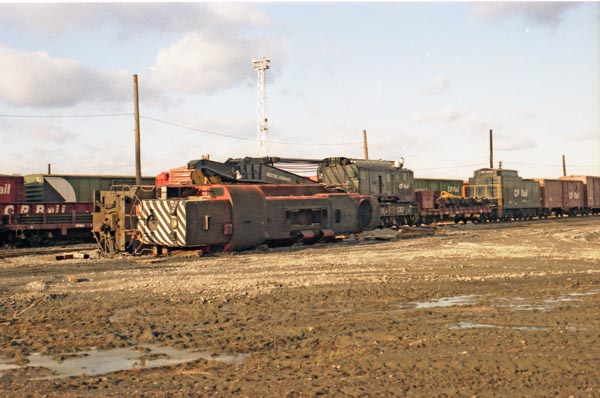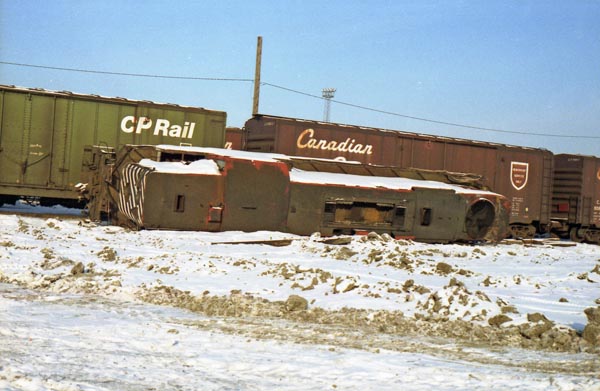 I recall for some months, we had to run a train numbered 507-51 5 combined out of St. Luc. This was about the time that Mitap radios came along so the trains going to the USA could talk to all the US train dispatchers in Detroit. We'd run the train with a big MLW-AIco, a B unit (non-leader), big MLW-AIco backwards, big MLW-AIco frontwards, B unit, and big MLW-AIco backwards. When they got to Toronto, they'd split up the units, with three going on #507 to CSXT Detroit-Rougemere, and three on #515 to NS Detroit.
Most of the time, we'd have six MLWs, but sometimes not. This train HAD to go on time at 7 am. One diesel shop planner especially would show the shop almost empty on the 0500 report.
He'd want to put GMs on this train because the Mitap units weren't ready ... he'd say that it was stuck in the shop behind a unit with pieces all over the floor.......
Another time, I was over at the shop, and M-636 4706 was sticking out of the turntable pit. There were so many white hats around, I didn't want to get my camera out. So I got to the office, and said to our mechanical man in the office...."Call up St. Luc shop and see what is wrong with 4706!" The Planner said "It's got wheelslip...."
Another evening, I was working 4-12 in the SOC. I got a call from Sudbury that VIA #2 - "Canadian" (VIA 6760, an MLW FPA-4) had hit a flatbed at Ashton, four miles east of Carleton Place Ontario, and the unit was completely derailed, but the four passenger cars were okay. A few minutes later, the superintendent calls me on the 'phone - "We need two Alco trucks on the head-end of #481 tonight for Carleton Place!" I said that I'd call St. Luc and see what I could do.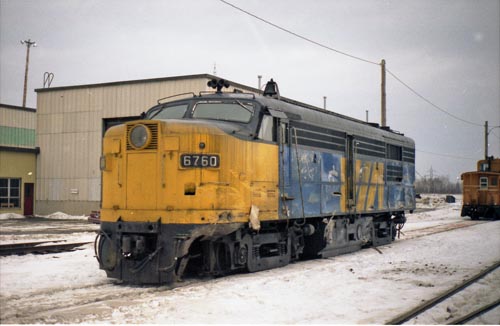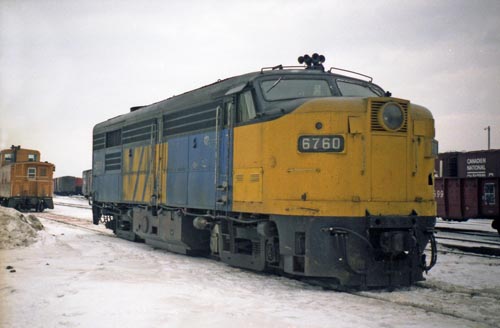 6760, at Walkley yard on 1 December 1986 after the accident at Ashton.
The 'phone is answered on the first ring by a new voice, so I said that #2 was derailed, and I needed two Alco trucks on a flatcar behind the power on #481. He said to me: "It's all ready to go!", and he said that he'd get the car behind 481's power, not due off the shop for a couple of hours. I was surprised that this was so quick, but called the Super back, and said the car would be there, and to make sure that the crew knew enough to set it off. He said that he'd probably have a work train there ready to take it to Ashton.
Next day, I'm over at St. Luc taking pictures about noon, and I see the shop boss waving at me to come over. So I go over, wondering what I'm going to get a blast about...."Did you tell the planner to put that flatcar on #481 last night?" "Well, I told him that I needed a flatcar with two trucks on it for a derailed engine at Ashton ...why?"
"Well, there were two trucks on the flatcar, but no wheels...."
Later in the shift, when I'm back at work, I call up the new planner to see what was going on. He told me that a sectionman had just let him know that this flatcar was loaded with two trucks, and a few seconds later, I called looking for a flatcar with two trucks, so he put two and two together, and figured that this was where it was going........
I saw Bill Hawkins in Carleton Place a couple of years back, and asked him if he was the one who had to go to Ashton, and he said, "Yes, and some dummy sent me up a flatcar with two trucks and no wheels..." So I told him the story, and we had a laugh. Then I asked what he did about this. He told the Super that the unit could go to Walkley Yard in Ottawa at 20 mph, and we'd give it to the CNR to take it to Pointe St. Charles in Montreal. But the CNR refused it, so CP had to take it to Bedell at 20 mph, then to St. Luc on the Winchester at 20 mph, and gave it to CNR at Parsley.....