I have been asked to write about past Christmas's during my experience on the railway. Any Christmas that I have had to work seemed quite quiet with most of the occurrences happening just before or after the big day, as there is now usually just minimum staff working to keep the few passenger trains moving, and freight operations are mostly shit down.
I started "hanging around" CPR's Ottawa West in 1954 when I was about eight years old. My uncle used to be an engineer out of there and he took me down to the facilities and got me hooked. Even before that, however, I had watched trains as the Carleton Place Subdivision, which passed the end of our street, had over two dozen trains a day while I was growing up.
The year 1955 seemed to be the busiest. As can be seen from the accompanying timetable, there were six transcontinental trains (1 and 2, 7 and 8, and 17 and 18); one long distance train (9 and 10); two Chalk River locals (555 and 556, and 557 and 558 - on Sunday 555 and 558 became 551 and 550); two pool trains to Brockville and Toronto (559 and 560, and 562 and 563); two Smiths Falls freights per day (83 and 89, returning as sections of No. 90); and the Monday to Friday Renfrew wayfreight (leaving at 08:00 and returning mid-afternoon, powered by a 4-6-0, usually D10 1027). Finally there was the "Shunter" which switched cars at the on-line industries in the area - namely Zagerman's, Beach Foundry, and Independent Coal and Lumber. (In 1950, at the Independent coal chute just to the east of Westboro station, Royal Hudson 2821 hit a company coal truck on the crossing at Churchill Avenue, with the 2821 spinning into Independent's spur track at high speed, killing the engineer and scarring the fireman, Earl Fergus.) The other switching points included the team track at Westboro station where Fentiman's used to get carloads of lumber and Leafloor's coal spur where restaurants now stand.
I remember the Christmas of 1958 the most. My uncle and Don Henry were the two engineers on 260 and 265, the renumbered (see above) Chalk River local. Don Henry lived in Toledo, a few miles to the south of Smiths Falls. On his run out he'd drive to Carleton Place, hop on 260 there, ride to Ottawa, take his train to Chalk River as No. 265, return the next day as No. 260, then deadhead back to Carleton Place on 265, and drive home from there.
No. 260 was only in Ottawa about an hour and a half. Also, in those days, once 265 got to Chalk River, it became another train from Chalk River to Mattawa and on to Temiscaming, Quebec, then returned the following morning, and again became No. 260. At the time the regular unit assigned to the run was RDC-2 9106. It must have the most miles on it - at least for its early days - and it only croaked a few times, which I'll come to later.
Anyway, on December 27th, Don says to me, "want to go to Chalk River tomorrow night in the RDC?" "Sure!" I'd never been to Chalk River and had never ridden an RDC except when they were testing the 9106 with FP9 1406 at Ottawa West on the Prescott Subdivision earlier that year.
Next evening my parents packed me a big lunch and I went down to Ottawa West a few minutes before 265 was due out. The operator, Keith McCann, later chief train dispatcher in Montreal, asked me where I was heading to. It wasn't very cold, about 30 degrees F, and I didn't have a very heavy coat on. I told him that I was going to Chalk River on the 9106. He replied, "Boy, you've got a thrill. You're going to Chalk River with Don Henry with the 1227". (For the uninitiated, the 1227 was a Pacific type steam engine of the G5 class.) They had a special party, plus there was a blizzard warning for the next day.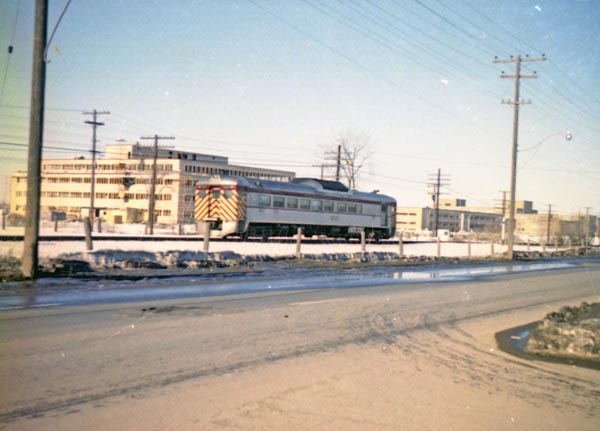 9106 on train 262 from Brockville at Ottawa, Scott Street and Gilchrist Avenue in February 1962.
The 9106 was coupled to the rear of the train which consisted of the 1227, a baggage car, and two 2200-series coaches. I took the orders and walked a little to the west of Bayview Road. The engine pulled up around the wye and stopped beside me. I hopped up into the cab with my lunch pail. My parents seemed a little apprehensive about this as they remembered that I was supposed to be going in an RDC. But, they also knew that I had trains for brains, so away we went.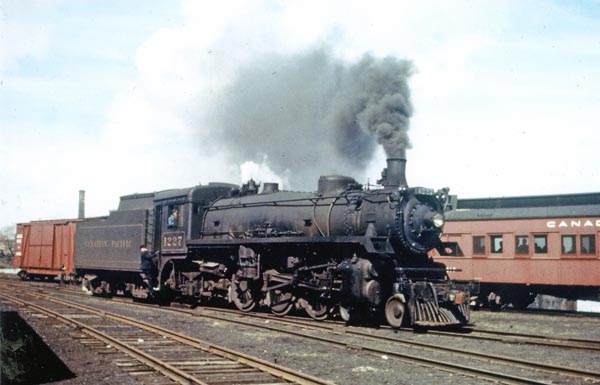 1227 at Kingston on 7 April, 1960, some three weeks before it last ran. Photo by Don McQueen.
I'd ridden in the steamers just going from the shop to the station at Ottawa West, but never for any distance. I cannot recall who the fireman was, but I believe that he was spare man from Smiths Falls. Don was telling him and I about the Carleton Place Subdivision, but this guy knew the Chalk River Sub. very well.
We got to Britannia on time and took the hole for No. 2 - "The Canadian". We stopped at the west end of Britannia siding and waited. About two minutes later Don said "There he is." I opened the cab door and heard nothing above the hissing of the 1227. Don pointed up to the sky. "There he is." In those days, the gyro lights on the top of the 1400s (FP7 and FP9) could be seen long before the train arrived.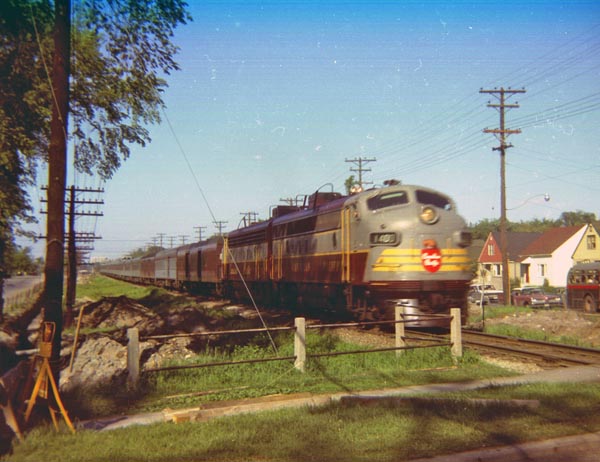 1400, fitted with an oscillating roof gyralight, at Ottawa, Island Park Drive on 15 June 1966.
About two minutes later, No. 2 barrelled around the curve, half a mile west of our spot, and when he saw us in the hole he opened up the throttle so that by the time he passed us he was doing a good 50 mph. I was standing in the doorway with a hand on each outside handrail, and the suction almost pulled me right out of the cab!
We left Britannia and we were almost on time at Stittsville (Stittville in the timetable). The rest of the trip was uneventful, but by the time we got to Renfrew I think that I was almost deaf from the cab noise and I went back to the RDC and rode in its cab to Pembroke. The heat was not on and I almost froze. Between Pembroke and Chalk River I rode inside the car.

The next day, the blizzard had hit in full force, and we bucked drifts all the way. I rode the 1227 from Chalk River to Pembroke but that was it. The snow was coming in every nook and cranny and there were lots of them. "Chicken-me" went back to the RDC to watch the snow fly by. The RDC had had trouble getting back from Temiscaming in the snow, but there was much less snow up there than we got in Ottawa. I doubt the 9106 could have made it alone that day plus there were about 150 passengers on the train.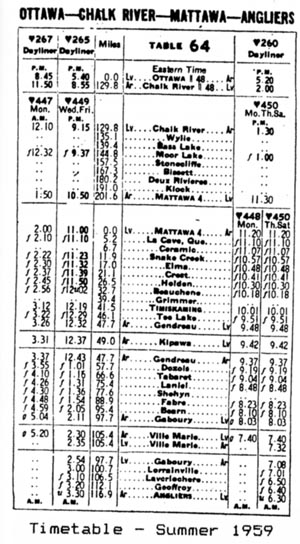 Many of the highways were closed by the time we got back to Ottawa, but we were on time. There 1227, however, looked like it had performed the duties of a snowplow. In fact, I have the long distance telephone book log from Carleton Place station from 1955 to 1960 and the entry for December 28 lists that "Called sectionmen out to rescue 1270 stuck in the snow at Ashton cut." The 1270 was on the Brockville pool which was about three hours behind us. He had made it to the top of the cut a mile west of Ashton, but the snow had blown in so hard and heavy that he could not get through.
Remembering this trip reminds me that the conductor that evening was Joe McFadden. He was on No. 265 one winter night when the RDC croaked at Ottawa West. As with my trip to Chalk River, No. 265 was to meet No. 2 at Britannia. The 9106 developed engine problems leaving Hull West and was only able to stumble into Ottawa West at about 5 mph.
The locomotive foreman, Art Mayhew, rushed over to the shop to grab an 8400-series RS-10 which was lined up for No. 83 to Smiths Falls, and get it ready for passenger service. This would take 20 to 30 minutes. In the meantime. No. 2 was sitting cooling his heels at Britannia. In those days before radios it was no easy matter to string a telephone up to the wayside wires to talk to the dispatcher, who was sitting fuming in Smiths Falls, unable to do anything - or so he thought.
At Ottawa West, Joe saw one of the yard clerks, Bill Popowicky, who lived right across from the station on Bayview Road, go home for supper. Joe then told the dispatcher "If I can get a ride out to Britannia with some train orders, maybe we can advance No. 2 to Ottawa West." The dispatcher jumped at the idea. The train order read "No 265 eng 9106 meet No 2 eng 1412 at Ottawa West instead of Britannia. This order to No 265 at Ottawa West."
Bill Popowicky was aroused from his dinner table and commandeered towards Britannia. Trouble was he was somewhat new to Ottawa. I went along for the ride but I didn't know what streets were near the Britannia siding and Joe, being a Smiths Falls man, knew the tracks but not the city.
We sped off up Scott Street - in those days it was not paved west of Island Park Drive, just tar-covered - up Roosevelt to Richmond Road, and along Richmond Road. As we passed Woodroffe Avenue, Joe exclaimed "We're only about a mile away because I recognize that confectionary store on the northwest corner."
We went another mile, turned right on McEwen Avenue and headed north, crossing the Ottawa Transportation Commission tracks and came to a dirt road crossing. There, sitting about 500 feet west of us was No. 2's FP9 1412, headlight dimmed, waiting patiently for the 9106 which would never arrive. The crew was just sitting in the cab, shooting the breeze, not about to do anything.
To say the least, they were very shocked when Joe walked up with their marching orders to Ottawa West. He rode back with them on the engine in case they beat us back. This they did by about 10 minutes. When we arrived at Ottawa West, No. 2 was in Hull and the RS-10 was just pulling out of the siding at Carruthers Avenue with the idling 9106 (idling to maintain heat in the car) on its long cold trip to Chalk River.
Merry Christmas!

CP RDC-2 "Dayliner" 9100 when new in 1955, is a slightly older sister to the 9106. Canadian Pacific photo B-3977-4, BRS Collection.