In April 1994, being responsible for the Transport Canada Railway Safety Program, I was asked to spend two weeks in Argentina to give a series of seminars on railway safety regulation. This gave me weekends in Buenos Aires and it was agreed that I would have the opportunity to see a little of the railway system during the three weekend breaks. A railway safety inspector would be assigned to me to take me around and to act as interpreter.
After the long flight the first weekend was taken up traveling around the Buenos Aires suburban system. The second weekend was taken up with a trip on a freight train on a newly independent railway to Olavarria, out one day and back the next. Interestingly, the railway superintendent was a former Canadian National Superintendent whom I had met in western Canada during my days in grain transportation.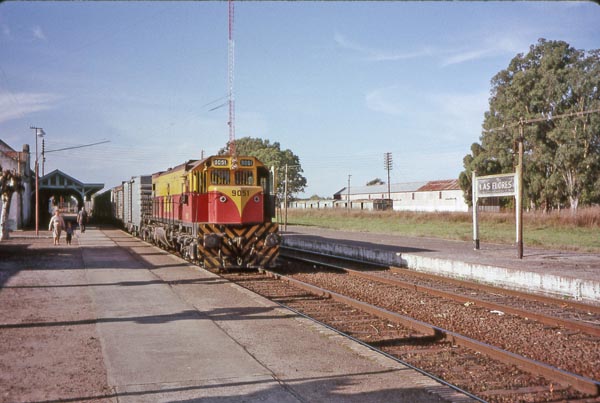 A freight train at Las Flores bound for Olavarria
The middle of the second week I was asked where I would like to go on the last weekend. I jokingly responded that I would like to visit El Maiten, headquarters of the narrow gauge (750 mm or 2ft 5˝in) steam operated line to Esquel, La Trochita made famous by Paul Theroux as the Old Patagonian Express. This would be a long and expensive trip so I made some other suggestions closer to Buenos Aires.
Nothing more was said until late Friday morning when the inspector who traveled with me explained that he had the plane tickets and we would have to leave late that afternoon.
"Where are we going?"
"You wanted to see El Maiten. We fly to Bariloche where I have hotel reservations, pick up a rental car and tomorrow we will inspect El Maiten. The Superintendent is happy to see us but because they only operate on Thursdays there will be nothing in steam."
Bariloche is a pleasant holiday resort situated on a large lake. The inspector drove like Juan Fangio, the race car driver, over dirt roads strewn with rocks. I buckled up and held on tightly. It took a couple of hours to get to El Maiten where the Superintendent was waiting for us.
"Just time for a quick look around the shop before lunch."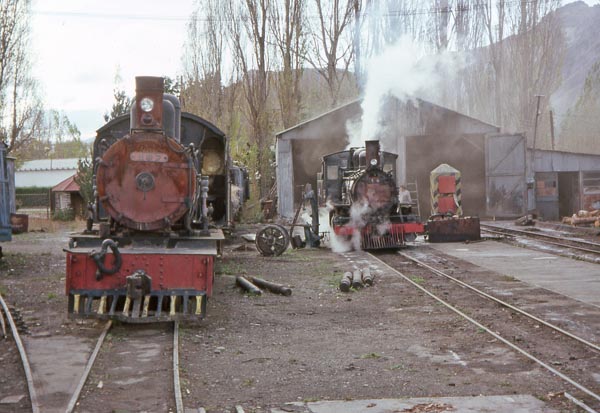 The shop track at ElMaiten. No 16 is under steam
The railway has to carry out all of its repairs, both locomotive and cars. A locomotive was being retubed and I was shown how new brass bearings were cast and prepared. There was a locomotive in light steam but I didn't think much about it at the time. At this time there was just one train a week to Esquel as well as the infrequent tourist charters.
The tour of the shop was undertaken at a brisk pace and we were quickly whisked over the dirt streets of El Maiten to lunch at a local café. Lunch consisted of just one dish – a huge plate of beef ribs placed in the center of the table. Six of us tucked into the ribs and talked railway. I sensed now that the Superintendent was trying to slow things down as he looked frequently at his watch. I was getting full of beef when he asked for another plate of delicious, finger licking good ribs.
Having finished the second plate of ribs, we all prepared to leave. I asked where we were going as we had seen everything at the shop. The response was in quick fire Spanish which I didn't understand. We returned to the station where an engine and two cars had been drawn up facing south.
"Here is your train, where would you like to ride"
I was dumbfounded and haltingly pointed to the locomotive. We climbed up. The Superintendent pointed to the two seats. "Which seat do you want?" It was an oil fired locomotive and, having fired 1201, I chose the fireman's seat. Eyebrows were raised – the Canadian Director General for Railway Safety chooses to take the left hand seat.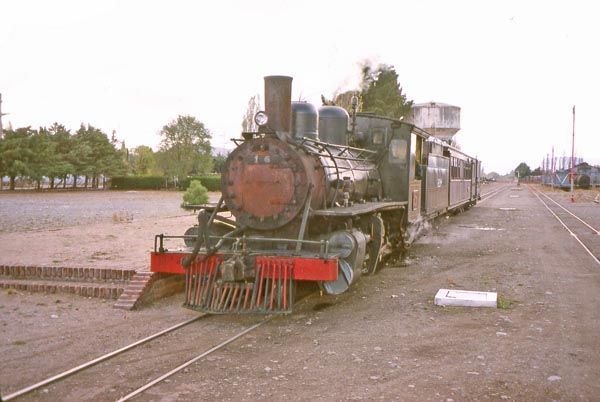 My train at El Maiten. No. 16 is a 2-8-2 built by Henschel.
We set off and I concentrated on maintaining steam by firing to the stack. I was conscious of several pairs of eyes on me. The line was level and with such a small train the locomotive was not taxed. It was a beautiful fall afternoon with the Andes mountains to the west, our right. All too soon, we arrived at Leleque, the end of the trip, where the locomotive was turned on the wye for the return to El Maiten.
I decided to return to El Maiten in the passenger car where the kids had come along for the ride on this festive occasion. At El Maiten it was time to say goodbye and thank you to everyone and suffer a hair raising return to Bariloche. We came around a bend and hit a large rock that had rolled down. Luckily it only bent a wheel rim and we were able to continue at a reduced, more comfortable, speed.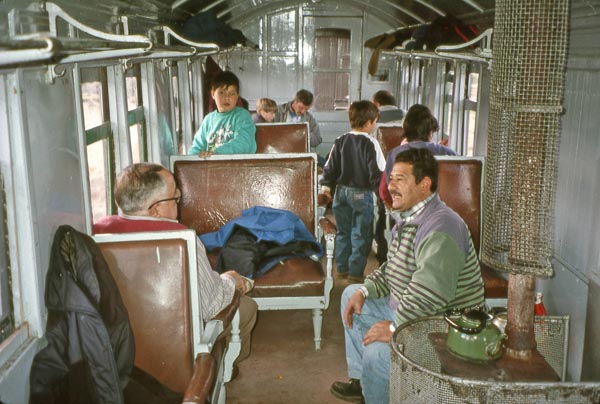 The passenger car. The inspector from Buenos Aires is on the left talking to the Mechanical Supervisor on the right. The stove is used to make the hot water for mate, a tea which is very popular in Argentina.
Sunday was free in Bariloche until it came time to return to Buenos Aires and the following day I returned to Canada.

It was the end of an interesting two weeks culminating in that wonderful trip on the Old Patagonian Express.

The two pictures below were taken during a later trip which shows La Trochita in the area between El Maiten and Leleque.